Teaching visual arts: double-sided tasks to hold together the didactic, ergonomic and creative dimensions of the activity of students and teacher.
Enseigner les arts plastiques : organiser le travail des élèves pour tenir ensemble les dimensions didactiques, ergonomiques et créatives de l'activité des élèves et du professeur.
We are reiterating the main ten years ago assumptions measured against changes to our research objects in this area and results produced by the operations we have subsequently performed. Our results showed that the trade finds efficient solutions to "take" and "do" the class (in terms of environment and group work) and to organise students' work, and revealed the particular psycho-physical commitment of the visual arts teacher. These very objects are considered here - required task - creativity at work - teacher's corporeality -, but enriched by results from the study of the entanglement of disciplinary didactic issues and ergonomic issues of the teaching activity. We will discuss the training opportunities provided by this type of analysis, including in occupational health-related dimensions.
Nous reprenons des hypothèses avancées il y a dix ans, à l'aune de l'évolution de nos objets de recherche dans ce domaine et des résultats produits depuis par nos interventions. Nos résultats montraient que le métier trouve des solutions efficaces pour " prendre " et " faire " la classe (en termes de milieu et de collectif de travail) et pour organiser le travail des élèves, et révélaient l'engagement psycho-corporel particulier du professeur d'arts plastiques. Ces mêmes objets sont considérés ici - tâche prescrite - créativité au travail - corporéité du professeur -, mais enrichis des résultats produits par l'étude de l'enchevêtrement des enjeux didactiques disciplinaires et des enjeux ergonomiques de l'activité d'enseignement. Nous discutons des perspectives de formation ouvertes par ce type d'analyse, y compris dans les dimensions relatives à la santé au travail.
Fichier principal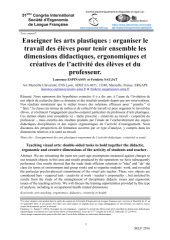 SELF 2016 Espinassy-Saujat.pdf (322.34 Ko)
Télécharger le fichier
Origin : Publisher files allowed on an open archive