L'analyse des interactions didactiques dans la formation initiale des enseignants de français langue seconde
First studied in the field of discourse and interaction analysis, then in the field of second language acquisition research, second language classroom interaction has more recently been studied in the field of "occupational didactic". In France, second language classroom interaction was slowly integrated as a legitimate object in the field of language teaching research but it still plays a marginal role in second language teacher's training. This article analyzes this slow legitimation and the effective contribution of these researches in the academic French as a second language teacher's training program. It also underlies some of the difficulties that emerge when basing a training course on second language analysis. Keywords: second language teaching, teacher training program, classroom interaction, second language acquisition, occupational didactic, teacher's discourses, educational gestures.
D'abord étudiées dans le champ de l'analyse du discours et des interactions, dans une perspective que nous qualifions de « typologique », puis dans le domaine de l'acquisition des langues, les interactions verbales qui se développent dans les cours de langue vivante ont plus récemment été étudiées avec les cadres méthodologiques et théoriques de la didactique professionnelle. Cet article revient sur l'intégration de ces travaux au champ de la didactique des langues et sur leur exploitation dans le domaine de la formation des enseignants de français langue étrangère en France. Il explicite les apports des différents cadres d'analyse d'interactions verbales didactiques enregistrées et transcrites au champ de la formation professionnelle de ces enseignants et il pointe certaines difficultés déontologiques et pratiques qui naissent lorsqu'on mobilise l'analyse de ces corpus pour le développement de la professionnalité d'enseignants en formation initiale.
Fichier principal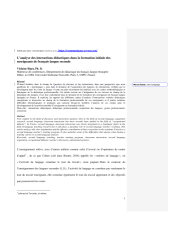 2017-Revue Communiquer-version HAL.pdf (249.56 Ko)
Télécharger le fichier
Origin : Files produced by the author(s)