"The sound of society": A method for investigating sound perception in Cairo
Having agreed and shown the importance of the acoustic dimension of everyday urban life in Cairo (Egypt) and proved the inclusion of these ambiances in social life as social productions, it was appropriate to carry on with ethnography. To do this, the first difficulty encountered is a low-verbalization by Cairo people of this sensory dimension. The authors have therefore developed an original methodology by testing an experimental procedure, "Mics in the Ears", opening access to the "natural language on the sounds." This ethnography of acoustic environments of the Egyptian metropolis highlights two trends we summarize as follows: socialization of sound and a "soundization" of the social. Remain to fully develop what is already hinted at in the sound descriptions of the city by its inhabitants: an acoustic ecology of the city of Cairo.
Après avoir convenu et démontré l'importance de la dimension acoustique de la vie urbaine quotidienne du Caire (Égypte) et démontré l'inscription de ces ambiances dans la vie sociale comme des productions sociales, il convenait d'en continuer l'ethnographie. Pour ce faire, la première difficulté rencontrée est la faible verbalisation par les usagers de la ville de cette dimension sensorielle. Les auteurs ont donc mis au point une méthodologie originale en testant un dispositif expérimental, « Mics in the Ears », ouvrant un accès au « langage naturel des sons ». De cette ethnographie des ambiances acoustiques de la mégapole égyptienne, se dégagent deux tendances que nous résumeront ainsi : une socialisation du son et une sonorisation du social. Restera à pleinement développer ce qui est déjà en filigranes des descriptions de l'acoustique de la ville par ses habitants : une écologie acoustique de la ville du Caire.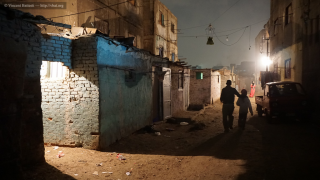 20151119192328b-vbat.jpg (230.41 Ko)
Télécharger le fichier
Fichier principal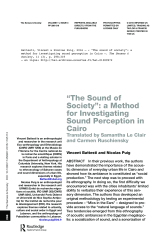 The sound of society, A method for investigating sound perception in Cairo, V. Battesti & N. Puig (2016)-hal-01380972.pdf (1.37 Mo)
Télécharger le fichier
Format : Figure, Image
Origin : Files produced by the author(s)
Origin : Explicit agreement for this submission