Le processus d'acceptation d'un bot : Analyse du récit de vie de Salebot
The consumer endorsing the role of producer can find solutions outside the framework of the organization. Thus, volunteer contributors to the content of the online encyclopedia Wikipedia setup a community that integrates non-human actors, bots. These autonomous programs have a social trajectory. Which can be likened to life for humans that have social interactions with this sort of artifact, as suggested by the CASA paradigm, "Computers are social actors" (Nass et al., 1994; Reeves and Nass, 1996). Through the life narrative of one such bot, struggling against malicious contributions, we explore the process of acceptance that makes it an actor acknowledged by the community.
Le consommateur endossant le rôle de producteur peut trouver des solutions en dehors du cadre de l'organisation. Ainsi, les contributeurs bénévoles au contenu de l'encyclopédie en ligne Wikipédia forment une communauté qui intègre des acteurs non-humains, les bots. Ces programmes autonomes ont une trajectoire sociale. Celle-ci peut s'apparenter au sens d'une vie pour des humains qui ont des interactions sociales avec ce type d'artefact, comme le suggère le paradigme CASA, « Computers are social actors » (Nass et al., 1994 ; Reeves et Nass, 1996). Au travers du récit de vie de l'un de ces bots, luttant contre les contributions malveillantes, nous explorons le processus d'acceptation qui en fait un acteur reconnu par la communauté.
Fichier principal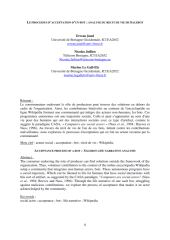 AFM2016JoudJullienLeGallEly.pdf (474.58 Ko)
Télécharger le fichier
Origin : Files produced by the author(s)