Contextualiser les théories du jeu de Johan Huizinga et Roger Caillois
The thoughts of Johan Huizinga and Roger Caillois, two of the most important researchers for the theory of play and game, are often quoted and discussed in researches on various topics. Unfortunately, it must be noted that in studies about game or play, researchers referring to their work almost never replace them in their socio-cultural context and in the whole work of the two men. This article aims at filling this void and will show that their theories imply specific visions of the world. Therefore, their works cannot be used without interrogating their foundations, their implications and their stakes.
Les réflexions de deux des théoriciens du jeu parmi les plus importants, Johan Huizinga et Roger Caillois, font régulièrement l'objet de citations et de discussions dans des recherches diverses. Cependant, dans les études sur le jeu, force est de constater que peu de chercheurs se référant à leurs travaux s'attachent à les replacer dans leurs contextes sociohistoriques ou dans l'oeuvre globale de leurs auteurs. L'article vise à combler ce vide et montre que les théories des deux hommes impliquent une vision du monde qui leur est propre et ne peuvent par conséquent pas être reprises sans interroger leurs fondements, leurs implications ainsi que leurs enjeux.
Fichier principal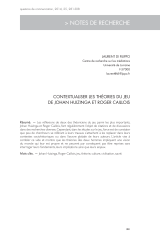 Contextualiser_theories_jeu_Huizinga_Caillois_qdc25-di-filippo.pdf (3.06 Mo)
Télécharger le fichier
Origin : Explicit agreement for this submission