Cartographier l'ontologie d'un territoire sur le web
Under what conditions is it possible to define the identity of a territory on the Web? In this paper we explore the way entities with a clear-cut geographical existence (such as Bolivia) exist and are objectivized in a digital space like the Web. Our question is "should the mapping of a territorial entity on the Web and its traditional geographical representation converge?" In order to answer it, we set out an analysis which takes as its starting point the architecture of the Web, revolving around the notion of resource (objects identified on the Web). Therefrom, we conduct an anthropological analysis of the "modes of existence" (Etienne Souriau) of a country such as Bolivia on the Web. We use several digital methods in order to probe concrete examples of the networks of associations it elicits and show that, as a resource, its limits that are widely redefined on the Web, largely through the networks generated by online participation (blogs, commentaries, tweets, Wikipedia entries…). Bolivia can thence be described as a burgeoning, quite unstable, entity whose borders become rather imprecise. Yet, such a characterization also proves way more encompassing and richer than traditional (namely, geographic) ones.
Quelle est l'identité d'un territoire sur le Web ? Dans cet article nous explorons les modes d'identification et d'objectivation d'entités (en l'occurrence, ici, un pays) ayant une existence géographique admise hors du Web. Il apparait que la Bolivie, en tant qu'objet identifié au moyen du Web, alimenté par des contenus participatifs (blogs, commentaires, tweets, articles Wikipédia, contenus structurées sur DBpedia, etc.), est une entité en devenir qui prolifère et non un référent stable aux bords nets. Grâce à cette hypothèse permettant de penser sérieusement l'existence à part entière d'une entité sur le Web, nous pouvons mener une enquête anthropologique à propos de ces deux modes d'existence (au sens d'Etienne Souriau) de l'entité Bolivie. La cartographie d'une entité territoriale sur le Web et sa cartographie géographique se recouvrent-elles ? Et selon quelles dimensions le cas échéant ? Nous verrons que la question à se poser sur le Web est avant tout une question d'échelles. Pour ce faire, nous repartirons des fondements de l'architecture du Web afin de déterminer comment faire varier les échelles sur le Web de manière à continuer à parler de la Bolivie (une entité une) tout en tenant compte de la prolifération des associations qu'elle tisse (une entité multiple) et ainsi enrichir notre appréhension de l'objet géographique Bolivie "hors" du Web (objet dont l'existence est néanmoins impactée par le Web selon des modalités à éclaircir).
Fichier principal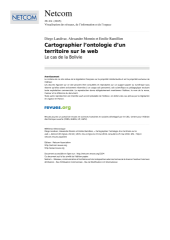 netcom-2104-29-3-4-cartographier-l-ontologie-d-un-territoire-sur-le-web.pdf (1.52 Mo)
Télécharger le fichier
Origin : Publisher files allowed on an open archive