"Un sujet bien mal formé" : expérience de soi, forme et réformation dans les Essais de Montaigne
Montaigne doesn't want to "form" Man: he is rather "giving an account" of Man and "sketching a picture of a particular one of them who is very badly formed". However, the concept of form, to be defined or imposed, remains at the heart of his philosophical and literary project. In a page of the last chapter of the Essais, Montaigne uses the notion of "reformation" to think the process through which doubt becomes the "master-form" of the mind. The importance and the difficulty of such a reformation will be highlighted later by Pascal and it allows for new understanding of the scepticism of the Essais.
Montaigne renonce à « former » l'homme et il s'adonne plutôt à le « réciter », en représentant « un particulier bien mal formé ». Cependant, la question de la forme, à définir ou à imposer, reste au cœur de son projet philosophique et littéraire. Dans une page capitale du dernier des Essais, Montaigne utilise en particulier la notion de « réformation » pour penser le processus qui permet de faire du doute la « maîtresse forme » de l'esprit. Cette réformation de l'entendement, dont Pascal soulignera l'importance et la difficulté, ouvre à une nouvelle compréhension de ce qu'on nomme, faute de mieux, le scepticisme des Essais.
Fichier principal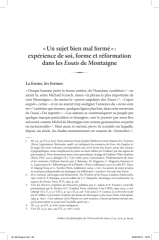 A. Frigo Un sujet bien mal formé expérience de soi, forme et réformation dans les Essais de Montaigne.pdf (1.71 Mo)
Télécharger le fichier
Origin : Explicit agreement for this submission