Pratiques d'enseignement universitaire innovantes : quels effets pour les étudiants ? Etude sur l'évolution des erreurs d'accord en français
The flipped classroom is part of innovative learning models where the content is exported out of the classroom at home before the class session, while the time in the classroom is used for explanation and activities about these contents. Currently, there are still few experimental studies about the impact of this learning model on students' competences. The present work presents a first study on the effects of the flipped classroom by comparing it with a classical educational model in a French grammar and orthography course for first year students. The learning progress is measured by writing dictations and multiple choice tests. The data collected from the assessments indicate that the question of the benefit of flipped classrooms should be raised by specifying the target skills : if one evaluates reflexivity and metalinguistic skills, the flipped classroom seems to be more appropriate whereas other processes like spelling/writing seem to be more successful with a conventional device. This first approach has to be confirmed and requires to be extended to other contexts and a broader temporal framework.
Considérée comme un des dispositifs qualifiés de pédagogies innovantes, la classe inversée consiste à exporter les contenus magistraux en dehors de la salle de classe et à utiliser le temps de classe pour des explications et des activités applicatives sur ces contenus. Actuellement, il existe encore peu d'études expérimentales à propos de l'impact de cette forme pédagogique sur les compétences des étudiants. Le présent travail expose une première étude sur les effets de la classe inversée en comparaison avec un modèle pédagogique classique dans un enseignement de grammaire et orthographe du français en L1. La progression des apprentissages est mesurée au moyen d'évaluations de type dictée et QCM. Les données recueillis dans les évaluations indiquent que la question de l'avantage de la classe inversée devra être posée en spécifiant les compétences visées : si l'on évalue la réflexivité et les compétences métalinguistiques, la classe inversée semble plus appropriée. En revanche, des processus automatisés dans l'écriture sont mieux réussi avec un entraînement classique. Il s'agit ici d'une première approche qui, pour être confirmée, nécessite d'être élargie à d'autres contextes et un cadre temporel plus large que celui de la présente étude.
Fichier principal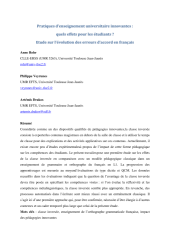 Rohr_Veyrunes_Drakos_Pratiques-innovantes-orthographe_ColloqueATIU.pdf (691 Ko)
Télécharger le fichier
Origin : Files produced by the author(s)