ARTEFACTS MALLÉABLES ET PERMÉABLES (AMP) POUR MENER DES ACTIVITÉS PÉDAGOGIQUES
We present here various experiments exploring the links between malleability and pedagogical "intentions". These experiments demonstrate the difficulty of implementing really suitable digital environments for final users. The use of Web2.0 applications for educational purposes increases that suitability. It is now possible for teacher or learner to develop their own teaching environment with generic and heterogeneous Web 2.0 functionalities. In such environment the challenge for a teacher consists in being able to easily consult the media used by each learner, and exploit his pedagogical intentions. The main goal of our paper is to present an appropriate software we have implemented: the "Personal Teaching Environment" (PTE). We analyze this software through a qualitative analysis and according to Michel Foucault's concept of heterotopia. This reference clarifies how our software can promote permeable space and social sphere porosity.
Nous présentons ici différentes expérimentations montrant la difficulté pour des utilisateurs finaux (enseignants et apprenants) de s'approprier la malléabilité d'un dispositif numérique de formation dans un cadre réel. Cette appropriation est facilitée si l'on définit ce dispositif dans le cadre élargi du Web 2.0, comme un agglomérat de Blogs hétéroclites, eux-mêmes agglomérant diverses fonctionnalités du Web 2.0. L'artefact que nous avons réalisé, le « Personal Teaching Environment » (PTE) permet l'exploitation pédagogique de cet environnement. Nous analysons cet artefact au moyen d'une enquête qualitative et en le rapprochant de la notion d'hétérotopie propre à Michel Foucault. Ce rapprochement éclaire la possibilité d'accompagner la notion de perméabilité des espaces et de porosité des sphères sociales.
Fichier principal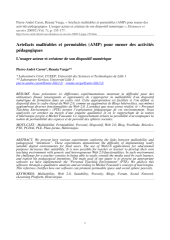 D&S-Caron-Varga-Version auteur.pdf (404.25 Ko)
Télécharger le fichier
Origin : Files produced by the author(s)