Zacharias Calliergis, la première imprimerie grecque de Rome et le rôle du banquier du pape
The invention of printing had a profound impact on access to knowledge, extended the readership, and transformed information into a consumer product. The publishing industry, already in full expansion in the early 16th century, was attracting numerous investors. Typesetter-printers and businessmen worked together to develop new commercial activities. With the establishment of the first Greek print shop in Rome, many key issues (technical, educational, economic, etc.) emerged and provide new insights into the emergence of a new economic system, new practices in acquiring knowledge, and transformations to the university model. This context allows us to revisit the role of the merchant banker in the new market for information.
L'avènement de l'imprimerie change les voies d'accès à la connaissance, élargit le lectorat et fait du savoir un produit consommable. Le secteur éditorial, en plein essor durant le début du xvi e siècle, attire de nombreux investisseurs. Typographes-imprimeurs et hommes d'affaires s'associent alors dans un objectif commercial commun. La fondation de la première imprimerie grecque de Rome cristallise plusieurs enjeux (technique, éducatif, économique…) et permet d'observer la mise en place d'un nouveau système économique, de nouvelles pratiques d'acquisitions des connaissances et les transformations du milieu universitaire. Ce contexte nous invite à ce nous interroger sur le rôle du marchand-banquier dans le nouveau marché des savoirs.
L'avvento della stampa cambia i percorsi di accesso alla conoscenza, allargando il lettorato e facendo dei saperi un prodotto di consumo. Il settore dell'editoria, in forte espansione nel corso del xvi secolo, attira molti investitori. Tipografi e uomini d'affari si associano in un obiettivo aziendale comune. La fondazione della prima stampa greca di Roma cristallizza molti problemi (tecnici, educativi, economici ...) e permette di osservare lo sviluppo di un nuovo sistema economico, nuove pratiche di acquisizione di conoscenza e trasformazione dell'ambiente universitario. Tale contesto ci invita ad interrogarci sul ruolo del mercante banchiere nel nuovo mercato del sapere.
Fichier principal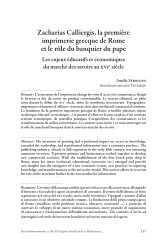 Zacharias_Calliergis.pdf (743.38 Ko)
Télécharger le fichier
Origin : Publisher files allowed on an open archive