Members of the SUD-PTT Union: Moral entrepreneurs?
Les syndicalistes de SUD-PTT : des entrepreneurs de morale ?
Since 1988 when it was founded, the Sud-PTT Union has often used law suits as a means of action in dealings with French postal authorities. Law is a full part of its practices. This is surprising coming from a union strongly attached to a protest tradition and so symbolically hostile to any form of institutionalization. What reasons underlie this orientation? The "conflict of rules" undertaken by SUD-PTT must be seen in relation to a major change in contemporary social strife. The "antagonistic posture" is no longer limited to collective actions but extends to more institutionalized strategies. Not just technical or instrumental, this sort of action aims at bringing pressure to bear on norms and, as a consequence, on the codification of social relations and on ways of living together.
Le recours devant les tribunaux est un mode d'action fréquent du syndicat SUD-PTT. Depuis 1988, année de sa création, ce syndicat a en effet investi le droit, l'utilise comme une ressource dans ses combats, et l'a intégré dans sa pratique syndicale. On cherchera d'abord à comprendre les raisons d'une telle orientation d'action, qui peut surprendre de la part d'un syndicat si fermement attaché à la tradition contestataire du syndicalisme et si symboliquement hostile à toute forme d'institutionnali-sation. Puis on montrera que le « conflit de règles » mené par SUD-PTT doit être relié à une évolution majeure de la conflictualité sociale contemporaine : la « posture antagonique » ne se limite plus au seul registre de l'action collective mais s'ouvre à des jeux plus institutionnalisés. Surtout, c'est la thèse de cet article, ce mode d'action n'est pas d'ordre uniquement technique ou instrumental. Il a en effet pour objectif de peser sur les normes, et par conséquent sur la codification des relations sociales et sur les modalités du vivre-ensemble.
Fichier principal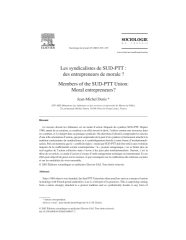 Sociologie du travail SUD-PTT.pdf (153.33 Ko)
Télécharger le fichier
Origin : Explicit agreement for this submission