Saint-Benoît-sur-Loire : un diagnostic dans l'ancienne église Saint-Sébastien
The project to build a columbarium in the municipal cemetery of Saint-Benoît-sur-Loire in the locus named "Fleury" led to the prescription an evaluation of the an archaeological potentiality. The four trenches practiced in spring 2008 in the basement cemetery represent about 84 m2 which delivered a rich stratigraphic sequence preserved on more than 1.50 m deep, delivering ruins built in Antiquity, an area which was frequented until the Carolingian period, then giving way to the Saint Sebastian Church (eleventh century) including several levels of occupation have been found. This church was demolished in the 1810s.
Le projet de construction d'un colombarium dans le cimetière municipal de Saint-Benoît-sur-Loire au lieu-dit Fleury a donné lieu à la prescription d'un diagnostic archéologique du terrain. Les quatre tranchées pratiquées au printemps 2008 dans le sous-sol du cimetière représentent une surface d'environ 84 m2 qui a livré une riche séquence stratigraphique conservée sur plus d'1,50 m de profondeur, livrant des vestiges construits à l'époque gallo-romaine, occupés jusqu'à l'époque carolingienne, laissant ensuite place à l'église Saint-Sébastien (XIe siècle) dont plusieurs niveaux d'occupation ont été retrouvés. Cet édifice a été démoli dans les années 1810.
Fichier principal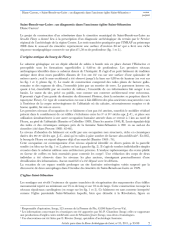 articleRALpostprint.pdf (6.51 Mo)
Télécharger le fichier
Origin : Files produced by the author(s)