Langue du droit et harmonisation terminologique multilingue : l'exemple de LexALP
The selection of terms and their harmonisation raise a number of fundamental questions in the area of terminology. These are reviewed here in the framework of the LexALP project designed to create a quadrilingual terminological database (French, German, Italian and Slovene) based on the Alpine Convention and designed to harmonise legal terminology relative to the management and preservation of the Alpine space. This paper first demonstrates that legal terminology in this context is not confined to attested legal terms but must include the legal implications of scientific, technical and even general terms. It then focuses on how the harmonisation process has a direct impact upon terminology work particularly with regard to defining concepts with precision, while at the same time mediating political implications. In conclusion, the authors underline the role played by pragmatic and institutional dimensions in the establishment of legal terminology in relation to multilingual projects.
La question de la sélection des termes et celle de l'harmonisation figurent parmi les problèmes classiques de la terminologie. Le cadre multilingue du projet LexALP, adossé sur la Convention Alpine, conduit à reposer ces questions, à partir des problèmes posés par la constitution d'une base terminologique intégrant quatre langues (français, allemand, italien et slovène) et visant à harmoniser la terminologie juridique utile à l'aménagement et à la protection de l'arc alpin. L'article montre que la notion de terminologie juridique doit être envisagée sur plusieurs plans : celui des concepts proprement juridiques, celui de termes issus des vocabulaires techniques scientifiques mais ayant des implications juridiques, celui enfin des termes empruntés au lexique commun, mais devant être spécifiés juridiquement. Le processus d'harmonisation, décrit dans la deuxième partie de l'article, est présenté comme ayant une influence directe sur le traitement terminologique : l'harmonisation oblige en effet à préciser les concepts, et conduit parfois aussi à des compromis, en fonction des enjeux institutionnels et politiques. L'établissement de la terminologie juridique nécessaire au projet intègre donc nécessairement une dimension pragmatique et institutionnelle.
Fichier principal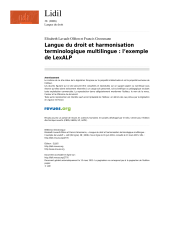 lidil-2776-38-langue-du-droit-et-harmonisation-terminologique-multilingue-l-exemple-de-lexalp.pdf (195.65 Ko)
Télécharger le fichier
Origin : Publisher files allowed on an open archive