DIVERSITE EN GENRE DANS LES CONSEILS D'ADMINISTRATION ET PERSISTANCE DES BENEFICES COMPTABLES : INVESTIGATION EMPIRIQUE DANS LE CONTEXTE FRANҪAIS
This article empirically tests the impact of gender diversity of the boards of directors on earnings quality in general, and on earnings persistence in particular. Using a sample of 70 French firms listed at the "SBF 120" index, we find that the enhancement of earnings persistence could not attributed to gender diversity. The results do not display significant differences among firms with female and male directors. Those results may be traced back to the socio-psychological attitude adopted by female directors, and by the visibility of barriers that would hinder their hierarchical progression.
Dans le cadre de ce travail de recherche, nous essayerons de tester l'impact de la présence des femmes dans les conseils d'administration sur la qualité des bénéfices comptables, et plus particulièrement sur leur persistance. Pour atteindre cet objectif, nous avons mené notre étude sur un échantillon de 70 entreprises françaises cotées à l'indice "SBF120". Notre analyse montre que l'amélioration de la persistance des bénéfices comptables des entreprises ne peut pas être attribuable à la diversité en genre de leurs conseils d'administration. Les résultats n'affichent aucune différence significative dans la persistance des bénéfices entre les entreprises à conseils d'administration sexuellement hétérogènes et celles à conseils d'administration homogènes (masculins). Ces résultats peuvent être attribuables à des comportements socio-psychologiques adoptés par les femmes ainsi qu'au caractère visible des barrières qui empêchent leur ascension hiérarchique.
Fichier principal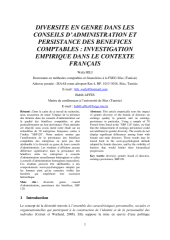 soumission-05-03-2013_14-33-59.pdf (307.29 Ko)
Télécharger le fichier
Origin : Files produced by the author(s)