Quelle(s) perception(s) des classements de blogs par leurs auteurs ?
Blogs were created at the end of the 90's. At first, they were considered as self-expression digital medias. Then, in an increasing proportion, they have become a way to promote the expertise of their authors. This change of function, combined with a highly increasing number of blogs, logically led the "blogosphere" to seek tracking devices - so evaluation - to check blogs more relevant than others. The best known of these devices is the Wikio site. The results of a qualitative study on the perception of the site by nine Wikio classified bloggers shows that they have incorporated the principle of an assessment they think globally profitable to their business in terms of reputation and credibility primarily. The study also reveals that these so called " experts " have a critical point of view on the evaluation system used by the site and that, somehow, they consider the classification process as a game within a community.
Apparus à la fin des années 90, les blogs sont des supports numériques d'expression de soi devenus, dans une proportion croissante, des espaces de mise en scène de l'expertise de leurs auteurs. Cette évolution de leur fonction, conjuguée à un foisonnement des créations, a logiquement conduit la " blogosphère " à rechercher des dispositifs de repérage - donc d'évaluation - de blogs réputés plus pertinents que d'autres. Le plus connu de ces dispositifs est le site Wikio. Les résultats d'une étude qualitative sur la perception du site Wikio par neuf blogueurs classés par celui-ci montre qu'ils ont intégré le principe d'une évaluation qu'ils pensent globalement profitable à leur activité en termes de notoriété et de crédibilité principalement. L'étude révèle aussi qu'ils portent un regard critique d'experts sur le dispositif d'évaluation utilisé par le site et que, d'une certaine manière, ce regard leur permet d'appréhender le classement comme un jeu au sein d'une communauté.
Fichier principal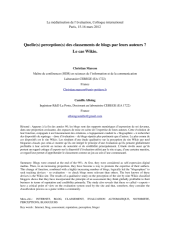 Wikio_et_perceptions_Alloing_Marcon_VHAL.pdf (357.02 Ko)
Télécharger le fichier
Origin : Files produced by the author(s)