Libre Accès aux Savoirs/Open Access to Knowledge
If open-source software has shown the importance of skill sharing, it is part of a broader issue: the progress of thought, and therefore of science, depends primarily on the freedom to communicate and ex - change ideas. Thus the importance of the international initiative in favour of open access to scientific works that challenges a commercial publishing system where some publishers can claim a quasi-monopoly. Francis André is a major player of this movement of utmost importance for Southern countries and ultimately for the overall global development of innovation.
Si les logiciels libres ont démontré l'intérêt de la mutualisation des compétences, le problème est plus général : les progrès de la pensée et donc de la science ont toujours été conditionnés par la possibilité de communiquer et d'échanger. D'où l'importance du mouvement international en faveur d'un libre accès aux travaux scientifiques, remettant en question le système d'éditeurs commerciaux en situation de quasimonopole. Francis André est l'un des acteurs de ce mouvement, primordial dans l'immédiat pour les pays du Sud, et à long terme pour développer la capacité mondiale d'innovation.
Fichier principal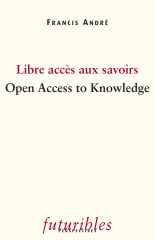 futuribles-libreaccesauxsavoirs.pdf (467.41 Ko)
Télécharger le fichier
Origin : Explicit agreement for this submission