Saisir le sens dans les deux sens
Co-occurrence is an asymmetric relationship: each word forming the pair brings with it its own semantic load that comes from its own network of semantic associations. Energy and availability (Luong et al., 2010) measure this asymmetry and we suggest here that they grasp quantitatively the notion of semantic load. Re-drafting them in a probabilistic framework to make them comparable between themselves and across words, we explore their interpretative value in discourse analysis on a corpus of French political speeches. We also introduce the notion of discursive performance that articulates both notions into one, and we explore the added value it brings to availability diagnostics for the purpose of identifying the modalities of semantic contextualization of a word by a given speaker.
Les relations co-occurrentielles sont des relations asymétriques : chaque mot apporte à la paire une charge sémantique qui lui vient de son propre réseau d'associations sémantiques. Les mesures d'énergie et de disponibilité (Luong et al., 2010) quantifient cette asymétrie, et nous proposons ici qu'elles saisissent quantitativement la notion de charge sémantique. En les reformulant dans un cadre probabiliste afin de les rendre comparables entre elles et d'un mot à l'autre, nous explorons leur portée interprétative en analyse du discours sur un corpus politique français. Nous introduisons également la notion de rendement discursif pour articuler entre elles les deux notions et explorons son utilité pour nuancer le diagnostic de la disponibilité sur la modulation sémantique d'un mot par un locuteur.
Fichier principal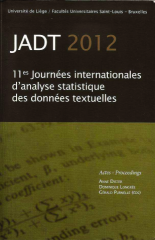 Ben_Hamed_Mayaffre_JADT2012-Saisir_le_sens_dans_les_deux_sens.pdf (1.16 Mo)
Télécharger le fichier
Origin : Explicit agreement for this submission