Genèse d'une communauté de pratique d'étudiants issue d'un forum de discussion : participation, conscience d'autrui et engagement mutuel
This paper examines the way bachelor's degree students in education in an online environment (FORSE, CNED) use a discussion forum, and how a virtual community of practice (CoP, Wenger, 1998/2005) emerges from their written interactions. We gathered and analysed these interactions, which are distributed in one academic year on three periods. Moreover the students were given a questionnaire assessing their practices and opinions on the forum. Three main dimensions were investigated: the actual use of the discussion forum tool; the students' awareness about each other (actions, thoughts); the extent a virtual CoP can emerge and develop. Results show, first, that the forum tool shapes the communication among students; second, that identity and self-introduction schemes are mainly delivered in the first phase. Eventually, several help or self-organizing behaviours, as well as different levels of involvement were found, supporting Wenger's theory.
Cet article étudie la manière dont une promotion d'étudiants de 3e année de licence en sciences de l'éducation à distance (FORSE, CNED) s'approprie un forum de discussion généraliste et interne à la formation, et comment une communauté de pratique virtuelle peut émerger à partir de leurs interactions. Ces dernières sont recueillies et analysées sur trois périodes au sein d'une année entière et un questionnaire d'opinion est passé. Trois dimensions sont investiguées : l'utilisation de l'outil forum de discussion, la manière dont les participants s'intéressent à autrui et communiquent à propos d'eux-mêmes (awareness) et, enfin, l'émergence et l'entretien d'une communauté de pratique en ligne. Les résultats montrent que le forum est un outil qui structure la CdP, que des éléments personnels de présentation de soi sont principalement diffusés en début d'année, dirigés vers autrui et spécifiques à la distance; enfin, l'existence d'entraide et d'auto-organisation des participants à différents niveaux d'engagement est relevée, conforme en cela à la théorie de Wenger.
Fichier principal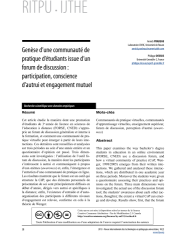 RITPU_v10_n02_38.pdf (314.14 Ko)
Télécharger le fichier
Origin : Publisher files allowed on an open archive