Une modélisation pour identifier les effets du travail collectif dans les enseignements scientifiques fondés sur les démarches d'investigation
The paper addresses teacher knowledge with respect to inquiry based science teaching [IBST] methods. It refers to the activity theory and ergonomics frameworks. These are adapted for studying IBST methods following the products and results of the S-TEAM European project. A six dimensions model is constructed: Origin of questioning; Nature of problem; Promotion of pupils' responsibility within the inquiry process; Positive consideration of pupils' diversity; Development of argumentation; Explanation of teachers' goals and strategies. The analysis of 18 videotaped lessons and interviews with teachers lead to verify the congruency between this model and the actual activity of science teachers. Tracks for further research are proposed.
La communication concerne les recherches sur le développement des compétences professionnelles des enseignants de sciences vis-à-vis des enseignements scientifiques fondés sur les démarches d'investigation [ESFI]. L'étude se fonde sur les modèles du développement professionnel tirés de la psychologie ergonomique. Ceux-ci sont adaptés pour l'étude des ESFI en référence aux productions du projet européen S-TEAM. Un modèle à six dimensions est élaboré : l'origine du questionnement, la nature du problème, la responsabilisation des élèves dans l'investigation, la prise en compte de leur diversité, le rôle de l'argumentation et l'explicitation des savoirs découlant de l'investigation. L'analyse de 18 vidéos de classes et des entretiens avec les enseignants permet de vérifier l'adéquation du modèle à l'activité effective des enseignants de science. Des pistes de recherche sont proposées.
Fichier principal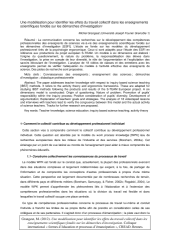 2012-CREAD_contribution_Grangeat.pdf (464.97 Ko)
Télécharger le fichier
Origin : Files produced by the author(s)