Les régulations métacognitives dans l'activité enseignante : rôle et modes de développement
The role of metacognitive regulations and conceptualizations on teacher activities is studied through the 'didactique professionnelle' conceptual and methodological frameworks. Based on the concept of process knowledge, the study aims to make explicit the teachers' conceptualization development and factors which could spur it. An empirical enquiry based on interviews with two primary teachers shows that metacognitive regulations are different according to the length of their experience and result from interactions amongst actors. Further research need do tackles the role of continuing professional development programs which aims to improve metacognitive regulations.
El presente estudio analiza el papel de las regulaciones metacognitivas y de las conceptualizaciones en la actividad docente en la perspectiva de la didáctica profesional. A partir del concepto de "saber-proceso", el estudio tiene por objetivo destacar la naturaleza de las conceptualizaciones y de los factores que impulsan su desarrollo. Un estudio que se llevó a cabo por medio de entrevistas realizadas con dos docentes de la primaria explicita la organización de sus "saberes proceso". Muestra una diferencia en la regulación metacognitiva de la actividad según la experiencia y hace patente el papel impulsor de las interacciones entre actores. Se sugiere que futuras investigaciones profundicen los efectos de los dispositivos de formación que favorecen las regulaciones metacognitivas.
Le rôle des régulations métacognitives et des conceptualisations dans l'activité enseignante est étudié dans la perspective de la didactique professionnelle. À partir de la notion de savoir-processus, l'étude vise à mettre en évidence la nature des conceptualisations et des facteurs déclenchant leur développement. Une étude par entretiens avec deux enseignants du primaire explicite l'organisation de leurs savoirs-processus. Elle montre une différence dans la régulation métacognitive de l'activité selon l'expérience et le rôle déclenchant des interactions entre acteurs. De futures recherches devraient approfondir les effets des dispositifs de formation favorables aux régulations métacognitives.
Fichier principal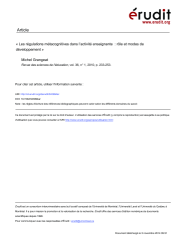 2010_Grangeat_RevueScienceEducation_Quebec.pdf (719.06 Ko)
Télécharger le fichier
Origin : Publisher files allowed on an open archive