La politique du handicap psychique. Familles, psychiatres et Etat face à la chronicité des maladies mentales des années 1960 aux années 1970
This report examines the role of the Union Nationale des Familles et Amies de Malades Mentaux (UNAFAM) in the evolutions of mental health and disability policies in France between 1960 and 1980. In the early 1970s, UNAFAM launched a program of nursing homes to address the needs of individuals suffering from chronic mental disorders outside psychiatric hospitals. As UNAFAM got recognition for its program in the 1975 disability law, strong critiques were raised among psychiatrists against this initiative. Indeed psychiatrists argued that such a program would in fact contribute to the chronicization of patients rather than help them. In the end, the program was cancelled and the French disability policy no longer mentioned mental illness. Three factors explain this outcome: an ambiguity if not an ambivalence of psychiatric thinking regarding chronicity; the emergence of a new divide between the social and the medical in French social policies; and a conflict between users and professionals in the elaboration of health and social policies in 1970 France. Drawing on archival material and documents from UNAFAM and from the French ministère des Affaires sociales, the report develops this analysis in two parts: the first part examines the history of UNAFAM and the creation of its discourse on psychiatric patients and their families; the second part focuses on the attempts by UNAFAM to create a series of measures for chronic mental patients in the 1975 disability law.
Ce rapport examine le rôle de l'action menée par l'Union nationale des Familles et Amis de Malades mentaux (UNAFAM) dans les évolutions des politiques de santé mentale et des politiques du handicap des années 1960 aux années 1980. Au tournant des années 1970, l'Unafam lance un programme de foyers pour malades mentaux chroniques au sortir de l'hospitalisation psychiatrique qui obtient une reconnaissance dans la loi de 1975 d'orientation en faveur des personnes handicapées. L'initiative suscite cependant une réaction d'ampleur parmi les psychiatres, qui estiment qu'elle risque de contribuer à la chronicisation des personnes plutôt que les aider. A l'issue d'un débat qui couvre toute la seconde moitié des années 1970, les psychiatres obtiennent finalement l'annulation de fait de ce programme. Le prix en est cependant l'invisibilisation des problèmes des personnes concernées : parce que l'idée même de handicap psychique renvoie désormais à une zone de pratiques et de discours que l'on ne peut plus rattacher à la psychiatrie sans pouvoir pour autant l'en détacher complètement, celui-ci devient littéralement impensable pour les protagonistes. Trois éléments expliquent ce dénouement : 1. une ambiguïté sinon une ambivalence concernant les catégories psychiatriques concernées ; 2. l'émergence d'une nouvelle division entre le médical et le social dans les années 1970 et ses conséquences pour la psychiatrie ; 3. le conflit entre usagers et techniciens dans l'élaboration des politiques sociales et de santé. La recherche, qui s'appuie sur un important travail d'archive et documentaire, développe ces différents éléments dans deux parties : la première analyse la constitution de l'Unafam et son discours sur les familles ; la seconde, les manières dont les politiques du handicap ont rencontré les politiques de santé mentale dans les années 1960 et 1970 autour de l'enjeu des foyers pour malades mentaux chroniques.
Fichier principal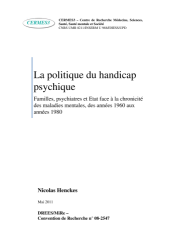 Henckes_2011_Rapport_MiRe.pdf (625.3 Ko)
Télécharger le fichier
Origin : Files produced by the author(s)