L'agrobiodiversité du dattier (Phoenix dactylifera L.) dans l'oasis de Siwa (Égypte) : entre ce qui se dit, s'écrit et s'oublie
The date palm (Phoenix dactylifera L.) is certainly the key plant of the oasian ecosystem of Siwa, the only Berber oasis of Egypt, in the Libyan Desert. Nevertheless, its present-day agrobiodiversity still deserves careful study. The agrodiversity of this cultivated plant cannot be addressed without taking into account the local horticultural practices and local ways of categorizing the living. This paper presents the first results of this research. If there is broad consensus on the local Berber names to be used for each part of the plant morphology, establishing a list of the different landraces of date palm in Siwa, in contrast, is far more difficult. It was necessary to clarify the local categorization of this plant and its cultivars. This brought to light two facts: the first, quantitative, is that about fifteen or so named types (cultivars and ethnovarities) exist; the second, qualitative, is that locally the shape does matter, genes matter little. In other words, the resemblance makes the identity, and this has implications on the richness of this resource. To reckon the evolutions of the agrobiodiversity, I had to go through all the literature written about Siwa (since the end of the 18th century) evoking the local named types of the date palm. Combining ethnography with historical analysis of the literature on Siwa points to a quite stable agrobiodiversity over this period. This work also suggests that the local community made some early choices to move not towards a self-sufficient oasis economy, but an economy focused on the export of products of a few elite cultivars. Siwa, with its multi-species cropping system, was perhaps not after all a lost oasis in the sands of the Libyan Desert. This paper is the first step of a two-stage work; the second, within an interdisciplinary research project, will examine samples of these date palms through morphometry of seeds and genetic structure of landrace populations to deepen the analysis of the date palm agrobiodiversity in Siwa, at the North African and Middle Eastern crossroads.
Le palmier dattier (Phoenix dactylifera L.) est certes la plante clef de l'écosystème oasien de Siwa, l'unique oasis berbère d'Égypte, dans le désert libyque, mais son agrobiodiversité restait mal étudiée et probablement mal comprise. La diversité de cette plante cultivée ne peut être abordée sans s'attacher à l'étude des pratiques horticoles locales et des façons locales de catégoriser le vivant. Cet article présente les premiers résultats de cette recherche. S'il existe un large consensus local sur les noms berbères locaux employés pour désigner chaque partie de la plante, en revanche, l'établissement d'une liste des différents types nommés du palmier dattier à Siwa est beaucoup plus difficile. Clarifier la catégorisation locale de cette plante et de ses cultivars a été nécessaire, mettant au jour deux données : la première, quantitative, est qu'il existe une quinzaine de types nommés (cultivars et ethnovariétés) ; la seconde, qualitative, est que localement les gènes importent peu, la forme si. Autrement dit, des formes identiques de palmier font identité, ce qui n'est pas sans conséquence sur la richesse de cette ressource. Pour estimer les évolutions de cette agrobiodiversité, j'ai eu à traiter toute la littérature écrite sur Siwa (depuis la fin du xviiie siècle) évoquant les types nommés locaux du palmier dattier. La combinaison du travail ethnographique et de l'analyse historique de ce corpus littéraire sur Siwa semble indiquer que cette biodiversité agricole a été relativement stable au cours de cette période. Ce travail suggère également que cette société oasienne a dû très tôt dans son histoire opter non pour une économie de l'autosuffisance, mais pour une économie articulée sur l'exportation des produits de quelques cultivars d'élite. Siwa, et son système en polyculture, n'était peut-être pas après tout une oasis perdue dans les sables du désert libyque. Cet article présente le premier étage d'une recherche qui en compte deux ; le second, au sein d'un projet interdisciplinaire, sera consacré à l'examen d'échantillons de ces palmiers dattiers par analyse morphométrique des graines et de la structure génétique de ces types nommés pour approfondir l'analyse de l'agrobiodiversité des dattiers de Siwa, au carrefour de l'Afrique du Nord et du Proche-Orient.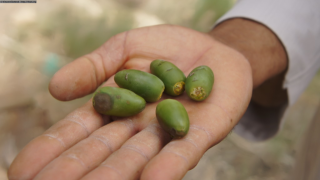 20130524105603-vbat_dattes_amenzu.JPG (132.26 Ko)
Télécharger le fichier
Fichier principal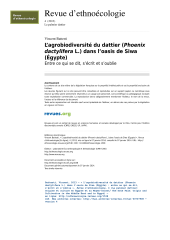 Agrobiodiversite_du_dattier_Phoenix_dactylifera_dans_oasis_de_Siwa_Egypte-Battesti-2013-hal-00707908.pdf (14.62 Mo)
Télécharger le fichier
Origin : Files produced by the author(s)