Temps, évolution et équilibre : un point de vue autrichien
We believe that, to understand economics phenomenon, economic has to build its own method with out blindly use(follow) naturals sciences (physics and biology). However, it is not necessary to have a great knowledge of economics history to ascertain that it early finds its intelligibility principles in natural science. Therafore, it is opportune to study the history of time in natural science, and especially in physics, to understand the history of time in economics. This will lead us to show on the one hand the pertinence of evolutionary approach and on the other hand their intrinsic limits when they explain economic only by transposing modern cosmology intelligibility. Because, the non-linear thinking cannot think the radically new and understand the change which is the evolution principle core. In this prospect, the Austrian theory contribution is to have thought the real time and the novelty.
La science économique pour comprendre les phénomènes économiques doit, à nos yeux, construire sa démarche sans suivre aveuglément les sciences naturelles (physique et biologie). La science économique trouva pourtant très tôt dans les sciences naturelles ses principes d'intelligibilité des systèmes économiques. Il n'est donc pas inopportun de comprendre l'histoire du temps en science naturelle et plus particulièrement en science physique pour comprendre l'histoire du temps en science économique et affirmer la pertinence des approches évolutionnistes et leurs limites intrinsèques si elles se contentent de transposer l'intelligibilité de la cosmologie moderne pour expliquer les phénomènes économiques. La physique contemporaine pense désormais l'irréversible mais reste incapable de penser le radicalement nouveau. Dans cette perspective, l'un des apports de la théorie autrichienne à la science économique est d'avoir pensé le temps comme un écart et de s'être donné les moyens de rendre intelligible le nouveau. Tel est l'objet de notre contribution.
Fichier principal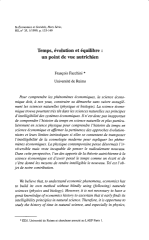 Temps, évolution et équilibre, un point de vue autrichien.pdf (286.63 Ko)
Télécharger le fichier
Origin : Publisher files allowed on an open archive