Distribution syntaxique, discursive et interactionnelle des contours intonatifs du français dans un corpus de conversation
This paper aims at acquiring a more comprehensive overview about the role of French intonational contours observed in a conversational corpus. We study their distribution with regards to syntactical structure, discourse and conversational organisation. Our results show that the minor contour is functionally underspecified compared to major contours. Among the latter, a set of different terminal contours appear to form a paradigm, sharing the same distribution as well as the same semantism. By contrast the major continuation contour appears to have a quite different semantic and interactional value, even when it occurs at the same syntactical distribution.
Ce papier vise une meilleure compréhension du rôle des contours intonatifs du français analysés dans un corpus de données conversationnelles. Nous étudions la distribution de ces contours en regard de la structure syntaxique, discursive et de l'organisation interactionnelle. Nos résultats montrent que le contour mineur est sous-spécifié d'un point de vue fonctionnel relativement aux contours majeurs. Parmi ces derniers, divers contours terminaux semblent former un paradigme, partageant la même distribution et le même sémantisme. A l'inverse, le contour majeur de continuation semble avoir une valeur sémantique et interactionnelle assez différente même lorsqu'il apparaît dans la même distribution syntaxique.
Fichier principal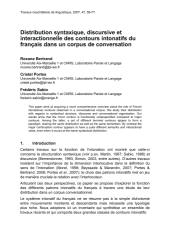 3422.pdf (352.26 Ko)
Télécharger le fichier
Origin : Files produced by the author(s)