Inequalities and growth: Are there good and bad inequalities?
This article maintains that we can escape from the deadlock in which the relationship inequalities/growth theory finds itself by using the entrepreneurial theory to explain a country's economic growth. The idea is the following: As with cholesterol, there exist good and bad inequalities. The bad inequalities are the result of rent seeking activities, while good inequalities originate in productive activity or entrepreneurial profit seeking. We could then reinterpret the empiric studies proposed by quantitative economics and show that inequalities harm growth in countries where the institutions incite unproductive entrepreneurial activity when it is good for growth where it is the result of profit seeking entrepreneurial activity.
Cet article soutient que l'on peut sortir de l'impasse dans lequel se trouve la théorie de la relation inégalités – croissance en utilisant la théorie de l'entrepreneur pour expliquer la croissance économique d'un pays. L'idée est la suivante. A l'image du cholestérol, il existerait de bonnes et de mauvaises inégalités. Les mauvaises inégalités sont le résultat de dépenses en recherche de rente, alors que les bonnes inégalités trouvent leur origine dans l'activité productive ou de recherche de profit des entrepreneurs. On peut, alors, réinterpréter les travaux empiriques proposés par l'économie quantitative et montrer que les inégalités nuisent à la croissance dans les pays où les institutions incitent les activités improductives des entrepreneurs alors qu'elles sont bonnes pour la croissance lorsqu'elles sont le résultat de l'activité de recherche de profits des entrepreneurs.
Fichier principal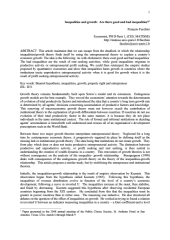 INEQUALITIES-SA-FF08.pdf (165.79 Ko)
Télécharger le fichier
Origin : Files produced by the author(s)