Some cues about the interactional value of the «continuation» contour in French
The aim of this study is to give some evidence in favour of our claim that the rising contour called "continuation" contour in French intonation has a true dialogical function, showing the strong relationship between this contour and conversational strategic points.

The "continuation" contour is often mentioned as part of the basic system of French intonation (Delattre 1966, Rossi 1999 for instance). However, mostly its structural role is highlighted to the detriment of its interactional role. For instance, Marandin et al. 2004 proposed a model of French intonational contours in which the "non-final" contour has no "discourse function", the latter being defined as a dialogical function. Moreover, E. Delais-Roussarie proposes to consider the continuation movement as a default melodic movement and since to remove it from the intonational system (personal communication).

If we agree with this position concerning "minor continuation" (Delattre, Rossi) we bring here some pieces of evidence to the opposite claim concerning "major continuation contour". We show that this contour occurs very frequently at TRPs (Transition Relevance Places) and also co-occurs with vocal and gestural backchannel signals as defined by Conversational Analysis.

References
Delattre, P. (1966). Les dix intonations de base du français, The French Review, XI (1) : 1-14.
Marandin, J.-M.; Beyssade,C.; Delais-Roussarie, E.; Rialland, A.; de Fornel, M. (2004), « The meaning of final contour in French », soumis.
Rossi, M. (1999). L'intonation, la système du français : description et modélisation. Paris : Ophrys.
Fichier principal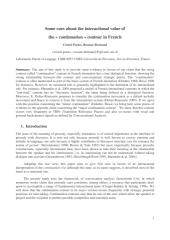 2389.pdf (188.43 Ko)
Télécharger le fichier
Origin : Files produced by the author(s)