Study of serum microRNA in myeloid acute leukaemia : towards a better understanding of epigenetic leukemogenesis and a new approach to the prognostic evaluation.
Etude des micro-ARNs sériques dans les leucémies aiguës myéloïdes : vers une meilleure compréhension épigénétique de la leucémogénèse et une nouvelle approche de l'évaluation pronostique
Acute myeloid leukaemia (AML) is a malignant proliferation of progenitors blocked during myeloid differentiation. The karyotype of the leukemic blasts identified three distinct prognostic groups. Among the favourable risk cytogenetics AML include acute promyelocytic leukaemia (APL), and those with inv (16) or t (8; 21). Micro-RNAs are key players in hematopoiesis and are also involved in leukemogenesis of AML. They are very stable in serum and used as biomarkers in cancers. The aim of this thesis was to evaluate whether a genome-wide characterization of serum micro-RNAs possible to distinguish these three types of AML them as well as AML with normal karyotype (NK-AML); identify micro-RNAs circulating highly overexpressed in NK-AML compared to healthy subjects, for later use as markers of residual disease; and to better define the prognosis of NK-AML. Thus, we have identified a specific serum signing of LAP related to a deregulation of micro-RNAs located in the DLK1-DIO3 under the imprinting, in 14q32. These micro-RNAs whose origin was the leukemic blasts were correlated with known prognosis factors of APL. In addition, two micro-RNAs, miR-10a-3p and miR-196b-5p, distinguishing the NK-AML with inv (16)-AML or t (8; 21)-AML have been shown overexpressed in NK-AML with mutation NPM1 and / or FLT3-ITD. Finally the expression of these two micro-RNAs correlates withtranscriptional deregulation and DNA methylation affectingTALE and HOX genes. In conclusion, this study of serum microRNAs opens a new field of exploration to assess the prognosis in AML.
Les leucémies aiguës myéloïdes (LAM) sont des proliférations malignes de progéniteurs bloqués lors de la différenciation myéloïde. Le caryotype des blastes leucémiques identifie 3 groupes pronostiques distincts. Parmi les LAM à risque cytogénétique favorable, figurent les leucémies aiguës promyélocytaires (LAP), et celles avec inv(16) ou t(8;21). Les micro-ARNs sont des acteurs clef de l'hématopoïèse et sont aussi impliqués dans la leucémogénèse des LAM. Ils sont très stables dans le sérum et sont utilisés comme biomarqueurs dans les cancers. Le but de cette thèse était d'évaluer si une caractérisation pangénomique des micro-ARNs sériques permettait de distinguer ces 3 types de LAM entre elles ainsi que les LAM avec caryotype normal (NK-AML); d'identifier des micro-ARNs circulants fortement surexprimés dans les NK-AML par rapport à des sujets sains, pour une utilisation ultérieure comme marqueurs de maladie résiduelle; et de mieux préciser le pronostic des NK-AML. Ainsi, nous avons identifié une signature sérique spécifique des LAP liée à une dérégulation des micro-ARNs localisés dans la région DLK1-DIO3 soumise à l'empreinte, en 14q32. Ces micro-ARNs, dont l'origine était le blaste leucémique, étaient corrélés aux facteurs pronostiques connus des LAP. Par ailleurs, deux micro-ARNs, miR-10a-3p et miR-196b-5p, distinguant les NK-AML des LAM avec inv(16) ou t(8 ;21) ont été montré surexprimés dans les NK-LAM avec une mutation de NPM1 et/ou de FLT3-ITD. Enfin l'expression de ces deux micro-ARNs est corrélée à la dérégulation transcriptionnelle et à la méthylation de l'ADN affectant les gènes HOX et TALE. En conclusion, cette étude des micro-ARNs sériques ouvre un nouveau champ d'exploration à visée pronostique dans les LAM.
Fichier principal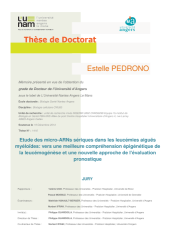 thesepedrono.pdf (3.68 Mo)
Télécharger le fichier
Origin : Version validated by the jury (STAR)