Estructura urbana y condiciones de movilidad en las periferias populares de Lima y Bogotá: desafíos y método de análisis
This article presents part of the work carried out as part of the Modural programme "Sustainable mobility practices in Latin American metropolises: a comparative study of Bogotá and Lima", launched in January 2020. Modural is an international and multidisciplinary programme funded by the ANR (French National Research Agency). It focuses on the study of sustainable mobility practices of households living more specifically in deprived outskirts. This article has two objectives. First, to highlight the socio-spatial patterns of mobility inequalities in Lima and Bogotá and the transport problems that affect the outer districts. Second, to detail the methodology for selecting the most socially disadvantaged areas with the most difficult daily travel conditions. It is in these areas that 1600 household surveys will be implemented in the first half of 2022.
Este artículo presenta parte del trabajo realizado en el marco del programa Modural "Prácticas de movilidad sostenible en las metrópolis latinoamericanas: un estudio comparativo de Bogotá y Lima", iniciado en enero de 2020. Modural es un programa internacional y multidisciplinar financiado por la ANR (Agencia Nacional de Investigación francesa). Se centra en el estudio de las prácticas de movilidad sostenible de los hogares que residen más específicamente en las periferias populares. Este artículo tiene dos objetivos. En primer lugar, evidenciar las configuraciones socioespaciales de las desigualdades de movilidad en Lima y Bogotá y los problemas de transporte que afectan a las zonas periféricas. En segundo lugar, detallar la metodología de selección de las zonas socialmente más desfavorecidas y con condiciones de desplazamiento más difíciles a diario. En estas zonas se llevarán a cabo 1.600 encuestas a hogares en el primer semestre de 2022.
Cet article restitue une partie des travaux menés dans le cadre du programme Modural "Les pratiques de mobilité durable dans les métropoles latino-américaines : une étude comparative de Bogotá et Lima", lancé en janvier 2020. Modural est un programme international et multidisciplinaire financé par l'ANR (Agence Nationale de la Recherche). Il porte sur l'étude des pratiques de mobilité durable des ménages résidant plus spécifiquement dans les périphéries populaires. Cet article poursuit deux objectifs. Premièrement, mettre en évidence les configurations socio-spatiales des inégalités de mobilité à Lima et à Bogotá et les problèmes de transport qui concernent les quartiers excentrés. Deuxièmement, détailler la méthodologie de sélection des zones les plus défavorisées socialement et présentant les conditions de déplacements parmi les plus difficiles au quotidien. C'est dans ces zones que seront mises en œuvre 1600 enquêtes ménages au cours du premier semestre 2022.
Este artigo apresenta parte do trabalho realizado como parte do programa Modural "Práticas de mobilidade sustentável nas metrópoles da América Latina: um estudo comparativo de Bogotá e Lima", lançado em janeiro de 2020. O Modural é um programa internacional e multidisciplinar financiado pela ANR (Agência Nacional de Pesquisa da França). Concentra-se no estudo das práticas de mobilidade sustentável dos domicílios que residem mais especificamente nas periferias populares. Este artigo tem dois objetivos. Primeiramente, destacar as configurações sócio-espaciais das desigualdades de mobilidade em Lima e Bogotá e os problemas de transporte que afetam as áreas periféricas. Em segundo lugar, detalhar a metodologia para selecionar as áreas socialmente mais desfavorecidas com as mais difíceis condições de locomoção. Nessas áreas, serão realizadas 1.600 pesquisas domiciliares na primeira metade de 2022.
Fichier principal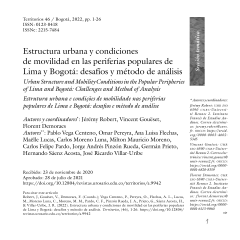 Robert_Goueset_Demoraes_et_al_2021_Territorios.pdf (9.66 Mo)
Télécharger le fichier
Origin : Publisher files allowed on an open archive