Identifying social and administrative units within the Classic Maya city through their seats
La identificación de unidades sociales y administrativas en el seno de la ciudad maya clásica a través de sus sedes
L'identification des unités sociales et administratives de la cité maya classique à travers leurs sièges
Formal and spatial analysis of architectural groups surrounding the epicenter of Classic Maya cities can discriminate significant units in areas that would otherwise appear as an undifferentiated aggregation of domestic groups. The article starts introducing a procedure for the identification of such units through their seats, and reviewing some interpretations and evidences about kinds of intermediate units within Classic Maya cities. Then, a proposal of unit identification in Tikal based on such an analysis is presented, and its application to three additional cases—Río Azul, Motul de San José and La Milpa—is evaluated. The proposal contemplates the existence of social units whose seats would match Plaza Plan 2 groups, characterized by ancestor worship, and the existence of minor officials responsible for the administration of the above social units—like the lakam, a title mentioned in some hieroglyphic texts—whose seats would match groups classifiable as Basal Platform Groups.
El análisis formal y espacial de los grupos de estructuras que rodean a los centros monumentales de las ciudades mayas clásicas permite discriminar unidades significativas en áreas que, de otro modo, aparecen como una agregación indiferenciada de grupos domésticos. El artículo parte de la introducción de un procedimiento de identificación de tales unidades a través de sus sedes y de la revisión de algunas interpretaciones y evidencias sobre la naturaleza de las unidades intermedias en las ciudades mayas clásicas. Presenta, después, una propuesta de identificación basada en dicho tipo de análisis para el caso de Tikal y evalúa su aplicación en tres casos más: Río Azul, Motul de San José y La Milpa. La propuesta plantea la existencia de unidades sociales cuyas sedes se corresponderían con los grupos con Patrón de Plaza 2, caracterizados por un culto a los antepasados, y la de funcionarios menores encargados de la administración de las unidades sociales anteriores –como el lakam, un título mencionado en algunos textos jeroglíficos–, cuyas sedes se corresponderían con los grupos clasificables bajo el tipo Grupo sobre Plataforma Basal.
Les analyses formelle et spatiale des groupes de structures entourant les centres monumentaux mayas classiques, isolent des unités significatives dans des zones qui apparaissent par ailleurs comme une agrégation non différenciée de groupes domestiques. L'article part de la mise en place d'une procédure d'identification de ces unités à travers leurs sièges, et de l'examen des interprétations et des évidences sur la nature des unités intermédiaires dans les cités mayas classiques. Il propose ensuite une identification à partir de ce type d'analyse pour Tikal, puis teste son application à trois autres cas : Río Azul, Motul de San José et La Milpa. La proposition suggère l'existence d'unités sociales dont les sièges correspondraient à des groupes de type « Plaza Plan 2 », caractérisés par le culte des ancêtres, et l'existence de petits fonctionnaires administrant ces mêmes unités – comme le lakam, un titre mentionné dans certains textes hiéroglyphiques – dont les sièges concorderaient quant à eux au type « groupe à plate-forme basale.
Fichier principal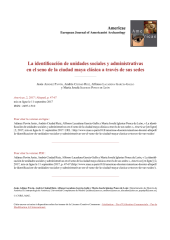 Pavón et Ruiz - La identificación de unidades sociales y administr.pdf (1.1 Mo)
Télécharger le fichier
Origin : Publisher files allowed on an open archive