Beyond Rain and Storm: Tlaloc and his Relationship with Warfare, Earth and Territory in Teotihuacan
Más allá de la lluvia y de la tormenta: Tlaloc y su relación con la guerra, la tierra y el territorio en Teotihuacan
Au-delà de la pluie et de l'orage : Tlaloc et ses rapports avec la guerre, la terre et le territoire à Teotihuacan
This article offers a series of reflections on the iconographic relations between the Tlaloc of Teotihuacan and the politico-military sphere of the city. In particular, it considers the explanations for the presence of Tlaloc iconography alongside the warriors and representatives of Teotihuacan outside the city, notably in images from Petén, dating from the end of the 4th century AD. One of the most evident hypotheses is that Tlaloc had a warrior character, and may indeed have been the Teotihuacan god of war. Whilst this explanation is plausible, the complex personality of the god permits other interpretations. In particular, it is evident that the god had close ties with the earth and the underworld, and he is thus possibly linked to the embodiment of Teotihuacan as a territory.
En el marco de este artículo se ofrecen algunas reflexiones sobre las relaciones iconográficas existentes entre el Tlaloc de Teotihuacan y el poder político-militar de la metrópoli. En particular, se abre una discusión sobre las razones por las que Tlaloc aparece junto a los guerreros y a los representantes de Teotihuacan fuera de la metrópoli, en imágenes encontradas en el Petén y fechadas de finales del siglo IV de nuestra era. Una de las explicaciones más obvias sería que Tlaloc tuvo un aspecto guerrero; incluso que fue el dios de la guerra de Teotihuacan. Dicha hipótesis es plausible, pero la compleja personalidad del dios impone proponer otras interpretaciones. En particular, Tlaloc parece estar vinculado con la tierra y el mundo telúrico y, en consecuencia, puede haber estado conectado con Teotihuacan en tanto que territorio.
Cet article offre une série de réflexions sur les relations iconographiques existant entre le Tlaloc de Teotihuacan et le pouvoir politico-militaire de la métropole. En particulier, il explore les raisons symboliques qui expliquent la présence de Tlaloc aux côtés de guerriers et de représentants de Teotihuacan en dehors de la métropole, notamment dans des images provenant du Petén et datées de la fin du IVe siècle de notre ère. Une des explications les plus évidentes est que Tlaloc aurait un caractère guerrier, voire qu'il ait été le dieu de la guerre de Teotihuacan. Cette interprétation est plausible, mais la complexité de la personnalité du dieu impose également d'autres lectures. En particulier, il est manifeste que le dieu a eu des relations étroites avec la terre et le monde tellurique, et il est donc peut-être lié à Teotihuacan en tant que territoire.
Fichier principal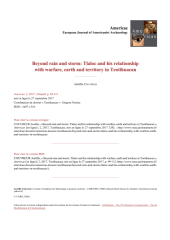 Couvreur - Beyond rain and storm Tlaloc and his relationship.pdf (1.39 Mo)
Télécharger le fichier
Origin : Publisher files allowed on an open archive