Gestion processuelle des résultats : Une étude pré- et post-IFRS des dépenses de R&D des entreprises françaises cotées
This research aims to determine how accounting methods and the variation of R&D budgets are techniques used to manage earnings. Thanks to the mediation methodology, we can show that managers capitalize firstly R&D expense before using real earnings management. Then the paper focuses on how accounting standards used (PCG/IFRS) alter earnings management based on R&D. Results indicate that using IFRS do not neutralize the earnings management by capitalization of R&D expenses. Moreover, firms that capitalized development expenses under French GAAP use the capitalization of development expenses under IFRS as a new technique to manage earnings. For these firms, accrual-based management by capitalization reduces real earnings management.
Cette recherche observe comment la comptabilisation et l'ajustement des dépenses de R&D sont utilisées comme modalités de gestion des résultats. Le recours à une variable médiatrice permet d'observer que les dirigeants activent prioritairement les dépenses de R&D avant de s'engager dans une gestion réelle des résultats par l'ajustement des dépenses de R&D. La recherche s'intéresse ensuite à l'influence de la norme comptable sur ces deux modalités de gestion des résultats. Les résultats indiquent que l'adoption des normes IFRS n'a pas neutralisé la capitalisation discrétionnaire des dépenses de R&D, mais que, à l'inverse, elle constitue une nouvelle modalité de gestion pour les entreprises qui inscrivaient en charges ces dépenses sous le référentiel PCG. Pour ces dernières entreprises, la gestion des résultats par la capitalisation leur permet de minimiser la gestion réelle des résultats.
Fichier principal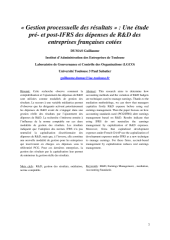 soumission-30-04-2013_21-20-59.pdf (387.49 Ko)
Télécharger le fichier
Origin : Files produced by the author(s)