The Place of Food in Geographical Thinking: an analysis from Max Sorre and Josué de Castro
La place de l'alimentation dans la pensée géographique : une analyse à partir de Max SORRE et de Josué de CASTRO (Thèse)
O lugar do alimento no pensamento geográfico: uma análise a partir de Max. Sorre e de Josué de Castro
The thesis presents how food has been studied in geography based on two authors who intensively dedicated themselves to this theme: Josué de Castro and Max Sorre. Josué de Castro is a Brazilian doctor and geographer who from the 1940s onwards has effectively studied hunger based on his research on food. Max Sorre is a classical geographer of French nationality and heir of the ideas of Paul Vidal de la Blache, who wrote "The Fundamentals of Human Geography" among other works. Sorre ended his geographical studies with "Man on Earth: treatise on human geography", inserting food and food geography in several of his studies, as well as hunger in continuation of Josué de Castro. Based on documentary research, bibliographical reading and interviews, we show the importance of the theme of food, especially in a time that precedes the revolution of information and communication technologies, the Green Revolution and the post-Cold War era marked by a significant increase in food production and global paradigm shifts. We defend the need for proper interdisciplinarity, and the humanization of the human sciences defended by these two humanist geographers. Our main objective is to share the contributions of Josué de Castro and Max Sorre in order to better understand the issues they observed and analyzed as well as their influence after their death. We conclude that the theme of food and hunger remains prominent and requires efforts to eliminate the scourge already denounced by Castro in the first three quarters of the 20th century and that continues to devastate, in an absolute and hidden way, a large part of humanity.
La thèse présente comment l'alimentation a été étudiée en géographie, à partir de deux auteurs qui se sont intensément consacrés à ce thème : Josué de Castro et Max Sorre. Josué de Castro est un docteur et géographe brésilien qui, à partir des années 1940, a effectivement étudié la faim à la lumière de ses études sur l'alimentation. Le second est un géographe classique de nationalité française et héritier des idées de Paul Vidal de la Blache, auteur entre autres de « Les Fondamentaux de la géographie humaine ». Sorre a conclu ses études géographiques par « L'Homme sur la Terre : traité de géographie humaine », insérant la nourriture et la géographie de l'alimentation dans plusieurs de ses études, ainsi que la question de la faim introduite au monde scientifique par Josué de Castro. À partir de recherches documentaires, de lectures bibliographiques et d'entretiens, nous montrons l'importance du thème de l'alimentation, surtout à une époque qui précède la révolution des technologies de l'information et de la communication, la Révolution verte et la période d'après-guerre froide, marquée par une augmentation significative de la production alimentaire et par des changements de paradigmes globaux. Nous défendons la nécessité d'une véritable interdisciplinarité et d'une humanisation des sciences humaines, défendue également par ces deux géographes humanistes. Notre objectif principal est de partager les contributions de Josué de Castro et de Max Sorre afin de mieux comprendre les problèmes qu'ils ont observés et analysés ainsi que la continuation de leurs idées après leur mort. Nous concluons que le thème reste d'actualité et nécessite des efforts pour éliminer le fléau déjà dénoncé par Castro dans les trois premiers quarts du XXe siècle, et qui continue de dévaster, de manière absolue et cachée, une grande partie de l'humanité.
A tese apresenta como a alimentação foi estudada na geografia, a partir dos dois autores que se dedicaram intensivamente a esse tema: Josué de Castro e Max. Sorre. O primeiro é o brasileiro que, a partir da década de 1940, estuda efetivamente a fome, depois dos seus estudos sobre alimentação. O segundo é o geógrafo clássico, de nacionalidade francesa, e herdeiro das ideias de Paul Vidal de la Blache, que escreveu "Os Fundamentos da Geografia Humana", entre outras obras, finalizando seus estudos geográficos com "O Homem na Terra: tratado da geografia humana", inserindo a alimentação, a geografia da alimentação em diversos de seus estudos, e a fome apresentada ao mundo científico por Josué de Castro. A partir de pesquisa documental, de leitura bibliográfica e de entrevistas, mostramos a importância do tema da alimentação, sobretudo numa época que antecede a revolução das tecnologias de informação e comunicação, a Revolução Verde e o pós-Guerra Fria, marcada por aumento significativo da produção alimentícia e a mudança global, com rupturas de paradigmas. Defendemos a necessidade da verdadeira interdisciplinaridade e a humanização das ciências humanas, também defendidas pelos dois geógrafos, humanistas. Nosso objetivo principal é compartilhar as contribuições de Josué de Castro e Max. Sorre para entendermos melhor as problemáticas observadas e analisadas por Castro e o que aconteceu após sua morte. Concluímos que o tema permanece atual e requer empenho para eliminação do flagelo já denunciado por Castro nos três primeiros quartis do século XX, e que continuam a assolar de forma absoluta e oculta grande parte da humanidade.
Fichier principal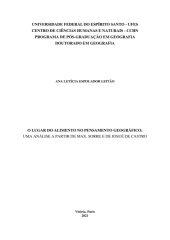 LEITÃO ALE Tese 2021.pdf (3.07 Mo)
Télécharger le fichier
Origin : Files produced by the author(s)