ARCHITECTURAL AND URBAN DESIGN EXPERIENCES OF THE HOSPITAL SITES, The dense and the fluid.
EXPÉRIENCES EN CONCEPTION ARCHITECTURALE ET URBAINE DES SITES HOSPITALIERS, Le dense et le fluide.
The doctoral dissertation of the VAE (Validation of Acquired Experience) assembles two distinct parts mobilizing successively the corpus of different knowledge. The first part is the «experimental paper» on the analysis of our experience as a practitioner of architecture and urbanism, as a teacher and as a researcher. It is centered on the achievements that resulted from it, following the division of our practice in three professions. This stratification of knowledge is detailed with a multipolar trajectory. Feedback is given on the basis of interviews with six major professionals in the development of French hospitals. The second part is the «research paper» on the development of hospital sites, in the field of architectural theory, with a methodology articulating system and model. A panorama of hospital types follows the logics of care and the evolutions of the hospital system. The contemporary hospital is crossed by a double ideal: that of being as fluid and dense as possible. The model has fluidity and density as principles. This hypothesis is tested by an original hospital genealogy covering about a hundred hospitals. This classification is presented according to hierarchical choices by branch, classes, orders, geometries and diversifications. We are looking at the emergence of the hospital « compact with patios », a new architectural type appeared in the 2000's. We open up on the evolutive trends of the sites of health. The conclusion highlights the great potential of this «caring» area to link health issues, those of the contemporary hospital world, those of energy and ecology.
Titre général : « Expériences en conception architecturale et urbaine des sites hospitaliers » Sous titre général : « Le dense et le fluide » //////////////////////////////////////////////////////// Titre partie expérientielle : « Les trois professions et les entretiens » Sous titre expérientiel : / //////////////////////////////////////////////////////// Titre partie recherche : « Urbanisme hospitalier : système, typologie et modèle » Sous titre partie recherche : « Systèmes et typologies de sites hospitaliers, généalogie typologique et apparition d'un nouveau type : le monobloc à patios. Le dense et le flux comme catégories d'analyse et de projet. » ////////////////////////////////////////////////////////  Résumé long / 3 000 caractères espaces compris. Le mémoire de doctorat par la VAE assemble deux problématiques distinctes, qui mobilisent successivement des corpus de connaissances différents, articulés par des entretiens avec des personnalités de l'aménagement des hôpitaux. La première partie est dite « expérientielle». Elle porte sur l'analyse de notre expérience de praticien de l'architecture et de l'urbanisme, d'enseignant et de chercheur. Elle est centrée sur les acquis qui en ont découlé, suivant la partition de notre pratique en trois professions, architecte devenu urbaniste, enseignant depuis ses études et chercheur sur la transition écologique. Ces analyses successives rendent compte de la stratification des connaissances et modélisent en plusieurs thématiques notre trajectoire. Puis nous opérons un retour d'expérience à partir de six entretiens menés avec de grands professionnels de l'aménagement des hôpitaux français. Ceci rend tangible et précis la réalité de l'aménagement hospitalier d'aujourd'hui. La deuxième partie est dite de « recherche ». Elle porte sur l'aménagement des sites hospitaliers, dans le champ de la théorie architecturale. Cette recherche a une matrice théorique qui articule système et modèle, en s'appuyant sur le cas d'étude d'un type singulier, l'hôpital monobloc à patios. Un panorama des types des grands sites hospitaliers est mis en rapport avec les logiques de soins et les évolutions du système hospitalier. Deux thématiques sont développées dans le cadre de notre pratique depuis deux décennies : le circuler et le densifier. Elles fondent ici ce travail de recherche sur le « fluide » et sur le « dense ». Nous étudions ces deux catégories structurantes de la conception des hôpitaux, le flux et la forme. Notre hypothèse entre dans l'aménagement de l'hôpital par le regard du concepteur. L'hôpital contemporain est traversé par un double idéal : celui d'être le plus fluide et le plus dense possible. Notre modèle a deux catégories : la fluidité et la densité. Les différents flux sont pris isolément puis dans leurs interactions, tant à l'intérieur de l'architecture qu'à l'échelle du site dans son entier. Nous en déduisons les conséquences en produisant une généalogie hospitalière originale qui fabrique une typologie des hôpitaux et des lieux de santé dans une perspective de conception architecturale et urbaine. Ce classement typologique est présenté sous la forme d'un arbre logique. Nous testons une centaine de cas selon une série de choix hiérarchisés par embranchement, classes, ordres, géométries et enfin diversifications. Nous investiguons un nouveau type architectural hospitalier, l'hôpital compact à patios en examinant son émergence récente, depuis les années 2000, avec ses caractéristiques majeures et ses limites. Nous ouvrons sur les tendances évolutives des sites hospitaliers. La conclusion pointe le grand potentiel de ce domaine du « prendre soin » pour lier les questions de santé, celles du monde hospitalier contemporain, celles de l'énergétique et de l'écologie.
Fichier principal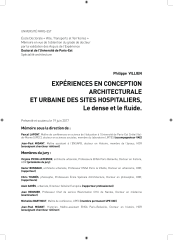 villien_1_memoire_doc_complet_vae_et_hopitaux_8mai17 (1).pdf (82.8 Mo)
Télécharger le fichier
villien_2_annexe_gd_format_affiche_genealogie_8mai17.pdf (61.66 Mo)
Télécharger le fichier
Origin : Files produced by the author(s)