The profession of physiotherapist, Evolutions and perspectives.
La profession de masseur-kinésithérapeute, Évolutions et perspectives.
When it was created in 1946, the profession of physiotherapists was defined by two practical acts : massage and medical gymnastic. These features characterize the practice of this professional body and allow everyone to understand to accurately grasp the role played by the latter in the health care system. As such, they have been, for many years, the essential and distinctive elements of his professional identity. However, progressively, some of the physiotherapeutic practices are being apprehended by other health practitioners. In this respect, the development of osteopaths and adapted physical activity teachers in the French societal environment, and their subsequent consecration in the French health care system, have played a major role in erasing the distinctive character of the essential elements of the physiotherapist's professional identity. At the beginning of 2015, many people are no longer able to clearly distinguish this health professional from any of the other practitioners considered. The comparative study of professional fields, which seem to be determined in law by the triptych : field of competence, field of intervention, field of practice, largely explain the situation. It reveals that the practices of these professional bodies tend to merge legally, which generates a strong competition between them. The professional body of physiotherapists can only strongly regret that the comprehensive reform of the professional, carried out during the years 2015-2016, has not fully resolved its identity difficulties nor allowed to recover the entirety of its original singularity. Needless to say, the university integration of physiotherapists, supposedly achieved by two regulatory standards enacted on September 2, 2015 both from the point of view of their initial training and their continuing education, has not led to all of them benefiting from a diploma recognized at the master's degree level and the professional body managing to bring out a core of university teacher-researchers from within, capable of releasing its own field of knowledge. In addition, the renewed definition of the field of competence of the physiotherapist, included in article L. 4321-1 of the Public Health Code, by article 123 of the law of January 26, 2016, still does not allow to clearly distinguish this one from the osteopath and the teacher in Adapted Physical Activity. This overall reform must therefore be considered as having had only limited impacts on the dynamics of singularization of the professional body. However, in certain aspects, it has proved to be decisive for the future development of massage therapy, which must now be understood in a dual dimension, i.e., both professional and disciplinary. In any case, this health activity cannot usefully evolve today without the consecration, by the public authorities, of a distinct and autonomous physiotherapy discipline, a condition that is not at all fulfilled by the mere fact of the registration of the Rehabilitation Sciences in the 91st section of the National Council of Universities by a decree of October 30, 2019. This specific disciplinary field must first be defined. To this end, it seems preferable that its essential elements be determined by transposing the most prevalent constituent elements of the professional fields of physical therapy into the disciplinary dimension, during a consensual and participatory procedure bringing together all of the bodies that have been merged in 2019 within the new disciplinary entity corresponding to Rehabilitation Sciences.
Lors de sa création en 1946, la profession de masseur-kinésithérapeute est définie par deux actes pratiques : le massage et la gymnastique médicale. Ceux-ci, caractéristiques de l'exercice du corps professionnel, permettent alors à tout un chacun de saisir avec justesse le rôle tenu par ce dernier dans le système de santé. Ils constituent, à ce titre, et ce durant de nombreuses années, les éléments essentiels et distinctifs de son identité professionnelle. Cependant, progressivement, certaines pratiques masso-kinésithérapiques sont appréhendées par d'autres praticiens en santé. À cet égard, le développement de l'ostéopathe et de l'enseignant en Activité Physique Adaptée dans le paysage sociétal français, puis leur consécration dans le système de français, participent de manière prépondérante à l'effacement du caractère distinctif des éléments essentiels de l'identité professionnelle du masseur-kinésithérapeute, au point qu'au début de l'année 2015 nombreux sont ceux qui ne parviennent plus à distinguer nettement ce professionnel de santé de l'un ou l'autre de ces praticiens. L'étude comparative des champs professionnels, qui semblent déterminés en droit par le triptyque domaine de compétences, champs d'intervention, champ de pratiques, explique en grande partie cette situation. Elle révèle notamment que les pratiques de ces corps professionnels tendent juridiquement à se confondre, ce qui engendre entre ceux-ci une concurrence prégnante. Le corps des masseurs-kinésithérapeutes ne peut que fortement regretter que la réforme d'ensemble de la profession, opérée au cours des années 2015-2016, n'ait pas totalement résolu ses difficultés identitaires et ne lui ait pas permis de recouvrer l'entièreté de sa singularité originelle. Il ne va pas sans dire que l'intégration universitaire des masseurs-kinésithérapeutes, supposée réalisée par deux normes réglementaires édictées le 2 septembre 2015 tant d'un point de vue de leur formation initiale que de leur formation continue, n'a pas conduit à ce que tous bénéficient d'un diplôme reconnu au grade de master et le corps professionnel réussisse à faire émerger en son sein un noyau d'enseignants-chercheurs universitaires, capable de dégager un champ de savoirs propre. En outre, la définition renouvelée du domaine de compétences du masseur-kinésithérapeute, inscrite à l'article L. 4321-1 du Code de la santé publique, par l'article 123 de la loi du 26 janvier 2016, ne permet toujours pas de distinguer nettement celui-ci de l'ostéopathe et de l'enseignant en Activité Physique Adaptée. Cette réforme d'ensemble doit par conséquent être considérée comme n'ayant eu que des impacts limités sur la dynamique de singularisation du corps professionnel. Pour autant, elle s'avère sous certains aspects déterminante pour l'évolution ultérieure de la masso-kinésithérapie, qui doit désormais être appréhendée dans une dimension duale, c'est-à-dire tant professionnelle que disciplinaire. En tout état de cause, cette activité de santé ne saurait aujourd'hui utilement évoluer sans la consécration, par les pouvoirs publics, d'un champ disciplinaire masso-kinésithérapique distinct et autonome, condition qui n'est aucunement remplie du seul fait de l'inscription des Sciences de la rééducation et de la réadaptation à la 91e section du Conseil national des universités par un décret du 30 octobre 2019. Ce champ disciplinaire spécifique devra au préalable être circonscrit. À cette fin, il apparaît préférable que ses éléments essentiels soient déterminés par la transposition des éléments constitutifs les plus prévalents des champs professionnels masso- kinésithérapiques dans la dimension disciplinaire, notamment au cours d'une procédure consensuelle et participative réunissant l'intégralité des corps qui ont été en 2019 confondus au sein de la nouvelle entité disciplinaire correspondant aux Sciences de la rééducation et de la réadaptation.
Fichier principal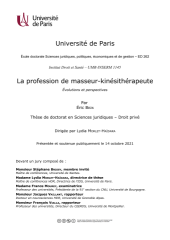 2022-01-01 - Thèse définitive_final.pdf (2.88 Mo)
Télécharger le fichier
Origin : Files produced by the author(s)