The management of inter-organizational relations: the case of public policies to improve air quality.
Le management des relations inter-organisationnelles : le cas des politiques publiques d'amélioration de la qualité de l'air.
Air pollution is responsible for 48,000 to 100,000 premature deaths in France every year. Recently, the French government was condemned twice by the courts because of recurrent exceedances of nitrogen dioxide and PM10 emissions and is facing a fine of 100 million euros. In addition, the annual social cost of air pollution is estimated at up to 100 billion euros per year. However, since 1996, the LAURE law recognizes the right "to breathe an air that does not harm his health". Following the last territorial reforms (MAPTAM and NOTRe laws), the various local levels must face a state injunction, namely a collective and coherent work on a very vast territory. However, the creation of metropolises, the merging of municipalities and inter-municipalities, and the modification of competences are all elements that call into question the territorial balance (Olive, 2015). In addition, the competences attributed to the different authorities sometimes overlap, as in the case of metropolises, which are responsible for developing harmonized policies over a wider geographical area, and regions, which become lead agencies with the aim of making the different Climate-Air-Energy policies consistent. Thus, a question remains as to how these actors should organize collaborative strategies. In the current state of affairs, local authorities, decentralized State services, experts and members of civil society work together through regulatory plans (Atmosphere Protection Plan, etc.) but also through actions based on the voluntary participation of local authorities and within the framework of calls for projects (Breathable Cities in 5 years, etc.). Our doctoral research, which follows an initial exploratory research conducted in 2016 on the metropolitan territory of Greater Paris, questions the functioning of this transversal work between all these stakeholders. In this framework, we mobilize the concept of inter-organizational relations (IOR) and make the choice to inscribe our work in a pluralist approach (Lumineau and Oliveira, 2018). Moreover, we are interested in the concept of collaborative strategic management (Clarke and Fuller, 2011) and "chemin faisant" (Avenier, 1999), which leads us to adopt the principles of complex thinking (Morin, 1977-2004). Finally, we mobilize the theory of paradoxes (2011 Perret and Josserand, 2003; Smith and Lewis, 2011) because whether we are talking about IORs or territorial management practices, both are characterized by their propensity to generate paradoxical tensions (Vangen, 2017). Thus, we seek to understand the extent to which inter-organizational relationships can be used as a strategic lever in the context of air quality improvement. Positioned in the epistemological framework of Dewey's pragmatism, this thesis is based on a multiple case study with an embedded design grouping together the metropolitan territories of Paris, Grenoble and Strasbourg. The data collected are processed through a thematic content analysis following a coding process called a prio-steriori (Allard-Poesi, 2003). This study thus contributes to enriching the concept of RIOs so that practitioners can consider them in their strategic dimension, notably through the establishment of a territorial value network. Moreover, the adoption of paradoxical and complex lenses allows us to consider collaborative strategies and pathways as a solution to allow the different stakeholders to work together to solve a complex problem in a more efficient and coherent way, provided that they bring together the different institutional spaces involved.
La pollution atmosphérique est responsable de 48 000 à 100 000 décès prématurés en France tous les ans. Récemment, l'État français a été doublement condamné par la justice du fait de dépassements récurrents concernant les émissions de dioxyde d'azote et de particules PM10 et encourt notamment une amende de 100 millions. S'ajoute à cela, le coût social annuel de la pollution atmosphérique estimé jusqu'à 100 milliards d'euros par an. Pourtant, depuis 1996, la Loi LAURE reconnaît le droit « à chacun de respirer un air qui ne nuise pas à sa santé ». Suite aux dernières réformes territoriales (lois MAPTAM et NOTRe), les différents échelons locaux doivent faire face à une injonction étatique, à savoir un travail collectif et cohérent sur un territoire très vaste. Cependant, la création des métropoles, la fusion de communes et d'intercommunalités, la modification des compétences sont autant d'éléments venant remettre en question l'équilibre territorial (Olive, 2015). De plus, les compétences attribuées aux différentes collectivités font parfois doublon, comme dans le cas des métropoles, en charge d'élaborer des politiques harmonisées sur un périmètre géographique plus vaste et des régions qui deviennent Chef de file dans le but de mettre en cohérence les différentes politiques Climat-Air-Énergie. Ainsi, une interrogation quant à la manière dont ces acteurs doivent organiser des stratégies collaboratives subsiste. En l'état actuel des choses, les collectivités territoriales, les services déconcentrés de l'État, des experts et des membres de la Société civile travaillent conjointement par le biais de plans règlementaires (Plan de protection de l'atmosphère, etc.) mais aussi à travers des actions basées sur le volontariat des collectivités et se situant dans le cadre d'appels à projets (Villes respirables en 5 ans, etc.). Nos travaux de recherche doctorale, qui font suite à une première recherche exploratoire menée en 2016 sur le territoire métropolitain du Grand Paris, s'interrogent sur le fonctionnement de ce travail transversal entre toutes ces parties prenantes. Dans ce cadre, nous mobilisons le concept de relations inter-organisationnelles (RIO) et faisons le choix d'inscrire nos travaux dans une approche pluraliste (Lumineau et Oliveira, 2018). De plus, nous nous intéressons au concept de management stratégique collaboratif (Clarke et Fuller, 2011) et chemin faisant (Avenier, 1999), ce qui nous amène à adopter les principes de la pensée complexe (Morin, 1977-2004). Enfin, nous mobilisons la théorie des paradoxes (2011 Perret et Josserand, 2003 ; Smith et Lewis, 2011) car qu'il s'agisse des RIO ou des pratiques de management territorial, toutes deux sont caractérisées par leur propension à générer des tensions paradoxales (Vangen, 2017). Ainsi, nous cherchons à comprendre dans quelle mesure les relations inter-organisationnelles peuvent-elles être utilisées en tant que levier stratégique dans le cadre de l'amélioration de la qualité de l'air. Positionnée dans le cadre épistémologique du pragmatisme de Dewey, cette thèse s'appuie sur une étude de cas multiples au design enchâssé regroupant les territoires métropolitains parisien, grenoblois et strasbourgeois. Les données collectées sont traitées à travers une analyse de contenu thématique faisant suite à un processus de codage dit a prio-steriori (Allard-Poesi, 2003). Cette étude contribue ainsi à enrichir le concept de RIO afin que les praticiens puissent être en mesure de les envisager sous leur dimension stratégique, notamment grâce à la mise en place d'un réseau de valeur territorial. De plus, l'adoption des lentilles paradoxale et complexe permet d'envisager les stratégies collaboratives et chemin faisant comme une solution pour permettre aux différentes parties prenantes de travailler communément à la résolution d'un problème complexe de manière plus efficace et cohérente, à la condition que celles-ci rassemblent les différents espaces institutionnels impliqués.
Fichier principal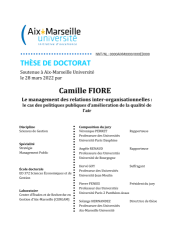 Thèse Camille Fiore.pdf (34.73 Mo)
Télécharger le fichier
Origin : Files produced by the author(s)