Evolution of the perception of proximity, value and attachment in a context of major change.
Évolution de la perception de la proximité, de la valeur perçue et de l'attachement dans un contexte de changement majeur.
Why don't new stadia seem to reach their expected objectives, namely in terms of occupancy rates? To answer this question, studying the process of both club attachment and stadium attachment seems particularly relevant, especially in the following two conceptual frameworks : (1) proximity → perceived value → attachment and (2) attachment to the old stadium → proximity → perceived value → attachment to the new stadium.Twenty-three hypotheses are tested on three samples of spectators: 1,446 spectators of Yves-du-Manoir stadium in Colombes, 668 spectators of Paris La Défense Arena in Nanterre and on a panel of 328 spectators of both stadia.The results confirm the validity of both conceptual frameworks and offer some food for thought to the sports industry professionals who would like to improve their stadium occupancy rates.
Pourquoi les nouvelles enceintes sportives n'atteignent-elles pas les objectifs escomptés, notamment en termes de taux de remplissage ? Pour répondre à cette question, étudier le processus d'attachement au club et d'attachement au stade nous semble particulièrement porteur, notamment dans les chaînages conceptuels proximité → valeur perçue → attachement et attachement à l'ancien stade → proximité → valeur perçue → attachement au nouveau stade.Vingt-trois hypothèses sont formulées et testées auprès de 1 446 spectateurs de stade Yves-du-Manoir de Colombes, 668 spectateurs de la Paris La Défense Arena et 328 spectateurs des deux enceintes. Les résultats obtenus confirment la validité des deux chaînages conceptuels testés et offrent des pistes de réflexion managériale pour les professionnels de l'industrie du sport professionnel qui souhaiteraient améliorer le taux de remplissage de leur enceinte.
Fichier principal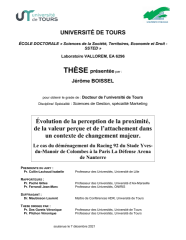 Boissel (Thèse soutenue le 7 décembre 2021), Évolution de la perception de la proximité, de la valeur perçue et de l'attachement dans un contexte de changement majeur (thèse soutenue le 7 décembre 2021) (1).pdf (8.17 Mo)
Télécharger le fichier
Origin : Files produced by the author(s)