The reversal of pensions (1983-1993). Actors, history, employment policies and financial circuits.
Thèse NAJI Ilias. 2020. Le retournement des retraites (1983-1993). Acteurs, histoire, politiques de l'emploi et circuits financiers.
Cette thèse de sociologie porte sur les réformes récentes des réformes des retraites en France entre les années 1970 et 1990. La dernière réforme favorable aux retraités date de 1983, avec l'abaissement de l'âge de départ en retraite de 65 à 60 ans. En 1993, la première réforme défavorable aux retraités prend place avec la hausse de la durée de cotisation, de la durée du salaire annuel moyen et l'indexation sur les prix. Ce travail propose dans une perspective de sociologie des controverses, des politiques publiques, des statistiques et des justifications de revenir sur les réformes des retraites entre les années 1970 et 1990, à partir d'une analyse croisée d'archives de syndicats (CFDT et CGT) d'administrations (direction de la Sécurité sociale et direction du Budget, ministère des Affaires sociales et de l'Economie) et du patronat (UIMM et CNPF). Différentes luttes entre acteurs portant sur les problématisations des retraites et l'organisation du circuit financier de la Sécurité sociale sont ainsi étudiées. La thèse dialogue avec la littérature sur l'histoire de la sécurité sociale, et celle sur l'Etat social. Elle propose d'aborder la sécurité sociale et ses politiques à partir d'une approche mêlant études des problématisations, des circuits financiers et des stratégies des acteurs. La thèse défend un résultat principal : les politiques de l'emploi ont encadré le contenu des politiques de retraite entre le milieu des années 1970 et 1993. Au cours des années 1970, les retraites et les préretraites sont progressivement utilisées pour sortir de la population active les personnes âgées. A partir de 1983, l'adoption de la politique de désinflation compétitive entraîne une compression des dépenses de retraite et la sortie du taux de cotisation des paramètres légitimes des réformes. Cette thèse propose ainsi une histoire des réformes des retraites faisant une place plus importante aux politiques de l'emploi que ne le font les récits habituels, centrés sur le vieillissement de la population. Le retournement des retraites entre des réformes favorables et défavorables aux retraités se comprend ainsi à l'aune du basculement des politiques d'emploi. D'autres résultats sont aussi présentés dans ce travail. Ils portent sur le lien entre statistiques et réformes, sur les problématisations des retraites, sur les usages de la contributivité et sur la construction des circuits financiers.
This sociology thesis focuses on recent pension reforms in France between the 1970s and 1990s. The last reform favourable to pensioners dates from 1983, with the lowering of the retirement age from 65 to 60. In 1993, the first reform unfavourable to pensioners took place with the increase in the length of contribution, the length of the average annual salary and the indexation on prices. From a sociological perspective of controversies, public policies, statistics and justifications, this work proposes to look back at the pension reforms between the 1970s and the 1990s, based on a cross analysis of the archives of trade unions (CFDT and CGT), administrations (Social Security Department and Budget Department, Ministry of Social Affairs and Economy) and employers (UIMM and CNPF). Various struggles between actors concerning the problematisation of pensions and the organisation of the financial circuit of the Social Security system are thus studied. The thesis is in dialogue with the literature on the history of social security and the social state. It proposes to analyse social security and its policies from an approach that combines studies of problematizations, financial circuits and actors' strategies. The thesis defends a main result: employment policies framed the content of pension policies between the mid-1970s and 1993. During the 1970s, pensions and early retirement were progressively used to take older people out of the labour force. From 1983 onwards, the adoption of the policy of competitive disinflation led to a reduction in pension expenditure and the removal of the contribution rate from the legitimate parameters of the reforms. This thesis thus proposes a history of pension reforms that places greater emphasis on employment policies than the usual accounts, which focus on the ageing of the population. The reversal of pensions between reforms favourable and unfavourable to retirees is thus understood in the light of the shift in employment policies. Other results are also presented in this work. They concern the link between statistics and reforms, the problematisation of pensions, the use of indicators of pension profitability and the construction of financial circuits.
Fichier principal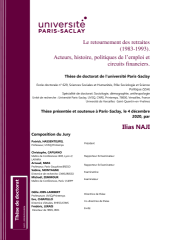 Thèse NAJI Ilias. 2020. Le retournement des retraites 1983-1993. Acteurs, histoire, politiques de l'emploi et circuits financiers..pdf (10.97 Mo)
Télécharger le fichier
Origin : Files produced by the author(s)