Response of A. thaliana to Cauliflower mosaic virus under water deficit: high throughput phenotyping of plant growth, study of plant ecological strategies, viral traits and their relationships.
Réponse d'Arabidopsis thaliana au Cauliflower mosaic virus (CaMV) en condition de déficit hydrique : phénotypage à haut débit de la croissance, étude des stratégies écologiques des plantes, des traits viraux et de leurs relations.
Agricultural production and ecosystem functioning are frequently constrained by drought and the frequency and duration drought periods should increase under the influence of climate change. Water limitation has been insufficiently integrated into the study of the interactions between plants and their pathogens, vectors and the abiotic environment. In order to improve the understanding of interactions between plants and viruses under water deficit, we evaluated the effects of the Cauliflower mosaic virus (CaMV) on growth and performance of several A. thaliana genotypes grown in a phenotyping automaton as well as the effect of water deficit on CaMV viral traits and their relationship. This work allowed i) to characterize the response of growth and performance of A. thaliana to CaMV under water deficit by exploiting the natural diversity, ii) to relate important traits related to plant functional strategies with stress tolerance iii) to show that water deficit can modify important traits related to CaMV such as transmission or intra-host accumulation iv) to study the relationships between viral traits on the natural diversity of A. thaliana genotypes in optimal irrigation condition or water deficit. This study has therefore highlighted the importance of understanding the impact of the environment on virus pathogenicity and virus persistence within ecosystems. The multidisciplinary approach contributed to a better characterization and understanding of plant-virus interaction and water deficit.
Les plantes sont des organismes sessiles qui doivent répondre et s'adapter à de multiples contraintes abiotiques et biotiques. La production agricole et le fonctionnement des écosystèmes sont fréquemment contraints par des épisodes de sécheresse dont la fréquence et la durée devraient augmenter sous l'influence des changements climatiques. L'étude des interactions entre les plantes, leurs cortèges de pathogènes, de vecteurs et l'environnement abiotique sont encore trop peu intégrées aux problématiques de limitation en eau. Afin d'améliorer la compréhension des interactions entre les plantes et les virus en condition de déficit hydrique, nous avons évalué les effets du Cauliflower mosaic virus (CaMV) sur la croissance de nombreux génotypes d'A. thaliana cultivés dans un automate de phénotypage ainsi que l'effet du déficit hydrique sur les traits viraux du CaMV et sur leurs relations. Ce travail a permis i) de caractériser la croissance et la performance d'A. thaliana en réponse à l'infection par le CaMV en condition de déficit hydrique en exploitant la diversité naturelle ii) de mettre en relation des traits importants liés à la stratégie fonctionnelle des génotypes avec la tolérance aux stress iii) de montrer que le déficit hydrique peut modifier des traits importants liés au cycle de vie du CaMV comme la transmission ou l'accumulation intra-hôte iv) d'étudier les relations entre les traits viraux sur la diversité naturelle des génotypes d'A. thaliana en condition optimale d'irrigation ou de déficit hydrique. Cette étude a mis en évidence l'importance de comprendre l'impact de l'environnement sur la pathogénicité d'un virus et sur sa persistance au sein d'un écosystème. La multidisciplinarité des approches constitue la richesse de ce travail de thèse qui contribue à une meilleure caractérisation et compréhension de la réponse des plantes lors d'une infection virale et d'un déficit hydrique.
Fichier principal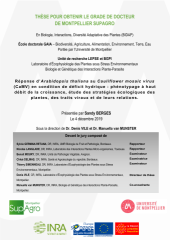 Sandy Berges_2019_Thèse_Montpellier SupAgro.pdf (13.79 Mo)
Télécharger le fichier
Origin : Files produced by the author(s)