Virtual reality tools for history and archaeology. Research, dissemination, mediation : the case of the Foire Saint-Germain theaters.
Outils de Réalité Virtuelle pour l'histoire et l'archéologie. Recherche, diffusion, médiation : le cas des théâtres de la Foire Saint-Germain
Just as digital technologies have profoundly changed the way the humanities are practiced, virtual reality promises to be an essential work tool in the future. This thesis focuses on the potential of virtual reality immersion for historians and archaeologists by proposing an adapted working method, called reverse-architecture, and a software component: PROUVÉ. Together, they transform virtual reality into a means of research, dissemination and mediation able to offer an immersive experience to a wide variety of users. This experience is meant to be entertaining while maintaining the standards of the scientific community in terms of hypothesis sharing and source traceability.
De même que les technologies numériques ont profondément modifié la manière dont se pratiquent les humanités, la réalité virtuelle promet d'être un outil de travail incontournable dans le futur. Cette thèse s'intéresse aux potentiels de l'immersion en réalité virtuelle pour les historiens et les archéologues en proposant une méthode de travail adaptée, la rétro-architecture, et un composant logiciel : PROUVÉ. Ensemble, ils transforment la réalité virtuelle en un moyen de recherche, de diffusion et de médiation apte à offrir une expérience immersive à une grande diversité d'usagers. Cette expérience se veut ludique tout en maintenant les standards de la communauté scientifique en matière de partage d'hypothèses et de traçabilité des sources.
Fichier principal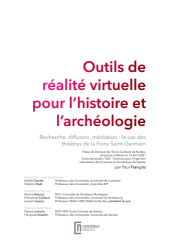 Paul_Francois_These_HAL_v3.pdf (162.92 Mo)
Télécharger le fichier
Origin : Version validated by the jury (STAR)