CONTRIBUTION TO THE STUDY OF TWO FIXATION SYSTEMS BY INTERFERENCE SCREWS OF AN ARTIFICIAL INTRA-ARTICULAR LIGAMENT IN THE REPLACEMENT OF THE CRANIAL CRUCIATE LIGAMENT IN DOGS.
CONTRIBUTION A L'ETUDE DE DEUX SYSTEMES DE FIXATION PAR DES VIS D'INTERFERENCE D'UN LIGAMENT ARTIFICIEL INTRA ARTICULAIRE DANS LE REMPLACEMENT DU LIGAMENT CROISE CRÂNIAL CHEZ LE CHIEN.
The rupture of the cranial cruciate ligament is an extremely common cause of orthopedic veterinary consultations. With a prevalence of 4.87% in dogs, it is the most common orthopedic ailment of pelvic limbs. It is a condition that must be managed surgically. Many methods have been described and the tibial plateau leveling osteotomy is now the gold standard in dog. However, the recent emergence of highly resistant and biocompatible materials has revived the interest of replacement of these ligaments by synthetical grafts in human medicine but also in veterinary Medicine. This biomechanical study, carried out on a cadaveric dog knee model (n = 14), should allow to compare two systems for anchoring an artificial ligament using interference screws. In the first group (n = 7), the two screws are placed in the bone tunnel from the joint space to the metaphysis (In-Out system) while in the second group (n = 7), they are placed in the opposite direction (Out-In system). The settings studied during the traction tests are the mode of rupture of the system, the maximum force at failure and the associated displacement, the force associated with a displacement of 3mm and the rigidity of the system. Study shows the Force associated with 3mm of displacement is approximately twice higher in the In-Out group than the Out-In group. Therefore two interference screws arranged in In-Out allow better initial tensile strength than an Out-In system for values ​​compatible with an acceptable stabilization of the stifle.
La rupture de ligament croisé antérieur est une cause extrêmement fréquente de consultation en orthopédie vétérinaire. Avec une prévalence de 4,87% chez les chiens, c'est l'atteinte orthopédique la plus courante des membres pelviens. C'est une affection qui doit être prise en charge chirurgicalement. De nombreuses méthodes ont été décrites et l'ostéotomie de nivellement du plateau tibial est aujourd'hui la technique de référence chez le chien. Toutefois, l'avènement récent de matériaux hautement résistants et biocompatibles relance l'intérêt du remplacement de ces ligaments par des prothèses ligamentaires en médecine humaine mais également en médecine vétérinaire. Cette étude biomécanique, réalisée sur modèle cadavérique de genou de chien (n=14), doit permettre de comparer deux systèmes d'ancrage d'un ligament artificiel par des vis d'interférence. Dans le premier groupe (n=7), les deux vis sont placées dans le tunnel osseux de l'espace articulaire vers la métaphyse (système In-Out) tandis que dans le second groupe (n=7), elles sont placées dans le sens opposé (système Out-In). Les paramètres étudiés lors de la traction sur le montage sont le mode de rupture du montage, la force maximale à laquelle le montage résiste et le déplacement associé, la force associée à un déplacement de 3mm et la rigidité du système. L'étude montre la Force associée à 3mm de déplacement est environ deux fois supérieure dans le groupe In-Out donc deux vis d'interférence disposées en In-Out permettent une meilleure résistance initiale en traction qu'un montage Out-In pour des valeurs compatibles à une stabilisation du grasset acceptable.
Fichier principal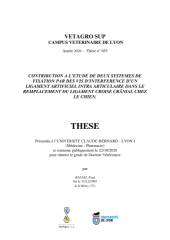 Thèse d'exercice RAFAEL Paul.pdf (5.57 Mo)
Télécharger le fichier
Origin : Files produced by the author(s)