Triptyque du sens du métier : un essai de conceptualisation. Explorations et analyses d'incohérences de sens dans les métiers du care.
Triptyque du sens du métier : un essai de conceptualisation. Explorations et analyses d'incohérences de sens dans les métiers du care.
Far from being immutable, professions and their identities are changing at the pace of social, societal and demographic changes, regularly forced to adapt to technological and organisational innovations. But, at the same time, they also have to comply with the prescriptions and regulations issued by the political authorities. In the field of social work, the identity of the professions is mainly structured around care ethics. The managerial shift initiated since the early 1980s and guided by the principles of the New Public Management (NPM) has tended to disrupt the aims and objectives of public action. Furthermore, even more than affecting working conditions and professional practices by prescribing new activity standards, NPM reforms are frequently described and considered as contrary to the ethics and values of care professionals, contrary to the representation that these professionals have of their profession and thus, contrary to the very meaning of their professions. Therefore, in view of these contextual elements and conceptual landmarks that run through them, this thesis work initiates a reflection and offers a conceptualization of the "meaning of the profession" articulated around a dimensional triptych combining personal values, representation of the profession and representation of the prescription. This thesis will focus more precisely on the profession of early childhood educator and the introduction of a management reform (PSU) within their work environment that now guides and prescribes their activity. Three empirical studies will explore the relationships of congruence and incongruence between the values underlying the professional action of early childhood educators, the social representation of their profession and the way in which these professionals perceive and experience the PSU. Finally, while the question of meaning guides and helps to conduct the theoretical and empirical approach of this research work, it also shapes and nourishes an epistemological and critical positioning that questions the "meaning of research".
Loin d'être immuables, les métiers et leurs identités se transforment au rythme des évolutions sociales, sociétales et démographiques, régulièrement contraints de s'adapter aux innovations technologiques et organisationnelles, mais aussi de se soumettre aux prescriptions et réglementations édictées par les autorités politiques. Dans le champ du travail social où l'identité des métiers se structure principalement autour de l'éthique de care, le virage gestionnaire amorcé depuis le début des années 1980 et guidé par les principes de la Nouvelle Gestion Publique (NGP) tend à bouleverser les enjeux et finalités de l'action publique et du métier. Aussi, plus encore que d'affecter les conditions de travail et les pratiques professionnelles en prescrivant de nouveaux référentiels d'activité, les réformes de la NGP sont fréquemment décrites et considérées comme contraires à l'éthique et aux valeurs des professionnel.les du care, contraires à la représentation que ces professionnel.les se font de leur métier, contraires, in fine, au sens même de leurs métiers. Dès lors, au regard de ces éléments contextuels et repères conceptuels qui les traversent, ce travail de thèse initie une réflexion et propose une conceptualisation du « sens du métier » articulée autour d'un triptyque dimensionnel conjuguant valeurs personnelles, représentation du métier et représentation de la prescription. En se concentrant plus précisément sur le métier d'éducateur.rice de jeunes enfants (EJE) et l'introduction d'une réforme gestionnaire (PSU) au sein de leur environnement de travail qui, désormais, oriente et prescrit leur activité, trois études empiriques viennent explorer les rapports de congruences et d'incongruences entre les valeurs qui sous-tendent l'agir professionnel des EJE, la représentation sociale de leur métier, et la manière dont ces professionnel.les perçoivent et éprouvent la PSU. Enfin, si la question du sens porte et guide la démarche théorique et empirique de ce travail de recherche, elle soutient et nourrit également un positionnement épistémologique et critique qui interroge ici le « sens de la recherche ».
Fichier principal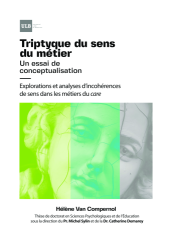 VANCOMPERNOL.pdf (12.28 Mo)
Télécharger le fichier
Origin : Files produced by the author(s)