Study of the solid-state electrolytes and interface properties in all-solid-state microbatteries : Case of LiPON and sulfide electrolytes.
Etude des propriétés d'électrolytes solides et d'interfaces dans les microbatteries tout solide : Cas du LiPON et des électrolytes soufrés
The link between the structure and the electrochemicalproperties of thin-film electrolytes and the interface formed withthe cathode material LiCoO2 has been intensively studied bycoupling Electrochemical Impedance Spectroscopy (EIS) and X-rayPhotoelectron Spectroscopy (XPS). Nitrogen incorporation intoLiPON, reference solid-state electrolyte for microbatteries, ischaracterized by the formation of lithium and oxygen vacancies,increasing the lithium ions transport. A sulfide based thin filmelectrolyte called LiPOS has been developed by radiofrequencysputtering, with the incorporation of sulfur into the initial Li3PO4structure. The solid/solid interface between LiPON and LiCoO2 ischaracterized by a partial reduction of cobalt and oxidation ofLiPON, which is in all probability responsible of the increase of thecharge transfer resistance between the two materials.
Le couplage de la spectroscopie d'impédance électrochimique(EIS) et de la spectroscopie photoélectronique à rayonnement X(XPS) a permis d'étudier en profondeur le lien entre la structure etles propriétés électrochimiques d'électrolytes solides en couchesminces, ainsi que de l'interface formée avec le matériau d'électrodepositive LiCoO2. L'incorporation d'azote dans la structure duLiPON, électrolyte solide de référence dans les microbatteries, estcaractérisée par la formation de lacunes de lithium et d'oxygènesfavorables au transport des ions lithium. Un électrolyte solideLiPOS a été développé par pulvérisation cathodique radiofréquencevia l'incorporation de soufre dans la structure initiale Li3PO4. Laprésence d'une interface solide/solide entre le LiPON et LiCoO2 estcaractérisée par une réduction partielle du cobalt et une oxydationdu LiPON à son voisinage, vraisemblablement responsable del'augmentation de la résistance de transfert de charges entre lesdeux matériaux.
Fichier principal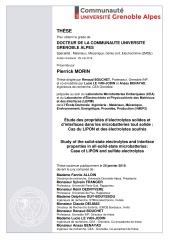 MORIN_2019_archivage.pdf (31.05 Mo)
Télécharger le fichier
Origin : Version validated by the jury (STAR)