Genotypic and phenotypic evolution of a Pseudomonas aeruginosa ST395 strain during 11-year in hospital spread.
Évolution génotypique et phénotypique d'une souche épidémique de Pseudomonas aeruginosa au cours des 11 ans de sa diffusion hospitalière
P. aeruginosa is an opportunistic pathogen responsible of hospital-acquired infections in immunocompromised patients. Although in-host evolution of P. aeruginosa is well documented, little is known about this pathogen evolution during its spread on a hospital scale. The high-risk multidrug resistant clone ST395 spread among more than 300 patients in the University Hospital of Besançon between 1997 and 2008. We used a WGS approach to identify the origin of the outbreak, the features that could have helped its implantation in our hospital and those associated with the end of the epidemics. The genomes of 54 representative isolates were fully sequenced. The phylogenetic tree indicated two distinct clusters corresponding to two parallel outbreaks. The ancestor of the ST395 clone possibly contaminated our hospital water network during its construction in 1979. This hypothesis is supported by the fact that the ST395 strain had a specific genomic island carrying 6 copper transporter genes implicated in copper resistance, correlated with the resistance to this metal which water supply network is made of. The late isolates displayed independent genomic signatures of chronic adaptation in patients (altered LPS and porin OprD, and extinction of MexAB-oprM efflux pump overproduction). Some of these mutations were associated with a decreased in vitro fitness. We hypothesize that the independent emergence of isolates adapted to chronic infection, and thus the accumulation of epidemiological dead-ends, participated to the end of the hospital outbreak of P. aeruginosa ST395.
P. aeruginosa est une bactérie pathogène de l'homme, responsable d'infections nosocomiales chez les patients immunodéprimés. Bien que son évolution au sein d'un patient soit bien décrite, son évolution génomique globale au cours de sa propagation dans un hôpital est très mal connue. Le clone à haut-risque ST395 multirésistant aux antibiotiques a diffusé dans le Centre Hospitalier Regional Universitaire de Besançon entre 1997 et 2008 en infectant ou colonisant plus de 300 patients. Une approche WGS a été utilisée afin d'identifier l'origine de l'épidémie, les caractéristiques ayant aidé à son installation à l'hôpital ainsi que celles à l'origine de sa disparition. Les génomes de 54 isolats représentatifs de l'épidémie ont été séquencés. L'arbre phylogénétique a mis en évidence deux clusters distincts indiquant la présence de deux épidémies parallèles. La datation d'un ancêtre commun en 1979, date de début de la construction de l'hôpital, indiquerait une contamination précoce du réseau d'eau de l'hôpital. Cette hypothèse est soutenue par la présence d'un îlot génomique spécifique de ST395 portant les gènes codant 6 transporteurs du cuivre et associée à une résistance phénotypique à ce métal constituant les tuyaux du réseaux de distribution d'eau potable. Les isolats tardifs présentaient des signatures génomiques d'adaptation à l'infection chronique (altération du lipopolysaccharide et de la porine OprD – objectivées phénotypiquement, et extinction de la surproduction de la pompe d'efflux MexAB-OprM – contrôlée par RT-qPCR) suite à des mutations indépendantes. Certaines de ces mutations ont été associées à une perte de fitness bactérien. Nous émettons l'hypothèse que l'émergence indépendante d'isolats adaptés à l'infection chronique, et ainsi l'accumulation de culs-de-sac épidémiologiques, a participé à l'épuisement de l'épidémie hospitalière de P. aeruginosa ST395.
Fichier principal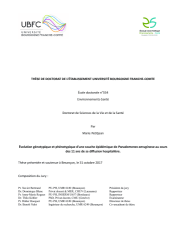 these_A_PETITJEAN_Marie_2017.pdf (14.52 Mo)
Télécharger le fichier
Origin : Version validated by the jury (STAR)