Ethnographic study and Participatory Action-Research in Non-Formal Education, Artistic experiences and hope: identity issues of displaced children Ashti IDPs Camp, Sulaymaniyah, Kurdistan, Iraq June to September 2017
Etude ethnographique et recherche-action participative en éducation non formelle, Expériences artistiques et espoir: problèmes d'identité des enfants déplacés.
The ongoing conflicts, political instability and the rise of religious and community radicalism, of which Daesh is the sad stigma, characterize Iraq for many years, especially since the disappearance of the "strong man" Saddam Hussein. Since the summer of 2014, particularly at a time when the Daesh fighters have seized power over a large part of Iraq, population movements have been brisk, displacing more than 3.2 million people within their own country, particularly in northern Iraq. This ethnography studies the experience of the displacement of children and their parents, most of whom have sought refuge in the Ashti camp in Sulaymaniyah, Iraqi Kurdistan, for the past three years. This study aims to question and understand the hopes of these children, through artistic practices in the framework of Non-Formal Education (NFE). Ashti camp is rich in complexity because it is home to different communities: Sunni Arabs, Yazidis, Shabaks and Turkmen. It is the only camp with this originality in Iraqi Kurdistan. The trajectories are varied, the situations and hopes are equally diverse. The camp is a temporary facility that is not intended to be fixed, but it is consolidated over time and protracted conflict situations. What must be an emergency solution; in a reduced time becomes the norm in the margin by integrating processes of installation in a place that is not intended to be one. The camps are becoming a permanent solution as an example in the humanitarian management of these forced exiles. Times are torn between an emergency that remains in need of moving out of an "off-ground" territory in order to be able to find its roots or take root in a social environment that allows these individuals to rethink their possibilities. Lives are often made invisible and shrunk. The times are lengthened, they often reveal long insomnia where the waiting of the great return marks the absence of the lost land. The suffering and victim's posture relayed by the humanitarian environment are the only confirmation of the present reality. Presenteeism then becomes a reality where the "thoughtfulness of exile" gives a presence to the world. How to accompany children as they watch the uprooted future? How can we respond, through education and artistic practices, to this quest for identity in an environment where it cannot take root? Through ethnography and Participatory Action-Research, notably through the conduct of plastic arts workshops in the framework of Non-Formal Education, we explore these children's perception of their future through joint workshops on their dreams (heard hopes). We observe the way in which their exile structures their perception of the past and their future, but also how and why, these children need to tell themselves and their stories through artistic creation. It is a permanent return trip between the future and the past that is taking shape in children's creations. In doing so, we consider both the specificities of the context and the global environment, especially the family environment, in order to understand how children's dreams are shaped by their failures: what they have lost but also what they cannot enjoy in the present. The present and the reality of the camp, which is often undesirable, do not give sufficient cues for imagination to build and develop. We maintain that education, formal or non-formal, especially in these destabilizing contexts, should guide the creative spirit of its children by giving them new possibilities to invent. It is essential to enable them to reflect on otherness and the world, but also to think about who they are and what they wish to become, even for the most extraordinary purpose. Artistic practices, when they exist, only question very little about the concepts of identity, otherness and dream. They often support a formal copying process or a simple playful or decorative aim. Neither institutions, nor international governmental or non-governmental organizations, seem to measure the stakes involved in such reflection. Literature on these specific issues is virtually non-existent. This study therefore wishes to highlight the density of practices and possible interactions in this type of Participatory Action-Research. This ethnography also shows that, in contexts of forced displacement where the past and the future coexist strangely, children abound in imagination and that it is important for the adults around them and the educational agents to help them to build their future in a creative way. It is also intended to lay the groundwork for a more detailed research project that will examine, in particular, the consideration of the identities, hopes and expectations of children by educational entities.
Les conflits permanents, l'instabilité politique et la montée des radicalismes communautaires et religieux, dont Daesh en est le triste stigmate, caractérise l'Irak depuis de nombreuses années, notamment depuis la disparition de "l'homme fort", Saddam Hussein. Depuis l'été 2014, particulièrement, époque où les combattants de Daesh ont pris le pouvoir sur une large partie du territoire irakien, les mouvements de populations ont été vifs causant le déplacement de plus de 3,2 millions de personnes à l'intérieur de leur propre pays, particulièrement dans le Nord de l'Irak. Cette ethnographie étudie l'expérience du déplacement d'enfants et de leurs parents, qui ont trouvé refuge, en grande majorité depuis trois ans dans le camp d'Ashti, à Sulaymaniyah, au Kurdistan irakien. Cette étude souhaite interroger et comprendre les espérances de ces enfants, à travers les pratiques artistiques dans le cadre de l'Education Non-Formelle (NFE). Le camp d'Ashti est riche de complexité puisque s'y côtoient différentes communautés : les Arabes sunnites, les Yazidis, les Shabaks et les Turkmens. C'est le seul camp tenant de cette originalité au Kurdistan irakien. Les trajectoires sont diverses, les situations et les espoirs, le sont tout autant. Le camp est constitué d'installations provisoires qui n'ont pas vocation à se fixer, cependant elles se consolident au fil du temps et des situations de conflits qui s'éternisent. Ce qui doit être une solution de l'urgence ; dans un temps réduit devient la norme dans la marge en y intégrant des processus d'installation dans un lieu qui n'a pourtant pas vocation à en être un. Les camps deviennent une solution pérenne comme une exemplarité dans la gestion humanitaire de ces exils forcés. Les temps sont tiraillés entre une urgence qui demeure dans le besoin de sortir d'un territoire « hors-sol » pour pouvoir retrouver ses racines ou s'enraciner dans un environnement social qui permette à ces individus de repenser leurs possibles. Les vies sont souvent rendues invisibles et rétrécies. Les temps sont allongés, ils révèlent souvent de longues insomnies où l'attente du grand retour marque l'absence de la terre perdue. La souffrance et la posture de victime relayée par l'environnement humanitaire sont les uniques éléments de confirmation de la réalité présente. Alors, le présentéisme devient une réalité où la « pensée pleine de l'exil » donne une présence au monde. Comment accompagner les enfants à regarder le futur déraciné ? Comment répondre, grâce à l'éducation et aux pratiques artistiques, à cette quête d'identité dans un milieu l'où ne peut pas prendre racine ? Nous explorons ainsi par l'ethnographie et par la Recherche-Action Participative, notamment grâce à la conduite d'ateliers d'arts plastiques dans le cadre de l'Education Non-Formelle, la perception qu'ont ces enfants de leur futur à travers des ateliers communs sur leurs rêves (entendus espérances). Nous observons la façon dont leur exil structure leur perception du passé et de leur futur mais aussi comment et pourquoi, ces enfants ont besoin de se dire et de se raconter à travers la création artistique. C'est un aller-retour permanent entre le futur et le passé qui se dessine dans les créations des enfants. Ce faisant, nous considérons à la fois les spécificités du contexte et l'environnement global, notamment familiaux, afin de comprendre comment les rêves des enfants sont façonnées par leurs manques : ce qu'ils ont perdus mais aussi ce dont ils ne peuvent pas jouir dans le présent. Le présent et la réalité du camp, souvent peu désirables ne donnent pas les repères suffisants permettant aux imaginaires de se construire et de se développer. Nous soutenons que l'éducation, formelle ou non-formelle, particulièrement en ces contextes de déstabilisation, devrait guider l'esprit créatif de ses enfants en leur donnant de nouveaux possibles à inventer. Il est indispensable de leur permettre de réfléchir sur l'altérité et le monde mais aussi de penser qui ils sont et ce qu'ils souhaitent devenir, même dans le dessein le plus extraordinaire. Les pratiques artistiques, lorsqu'elles existent n'interrogent que très peu sur les concepts d'identité, d'altérité et de rêve. Elles soutiennent souvent une démarche formelle de recopiage ou une simple visée ludique ou décorative. Ni les institutions, ni les organisations internationales gouvernementales et non-gouvernementales, ne semblent mesurer les enjeux qu'une telle réflexion suppose. La littérature sur ces enjeux spécifiques est quasiment inexistante. Cette étude souhaite donc souligner la densité des pratiques et des interactions possibles dans ce type de Recherche-Action Participative. Cette ethnographie montre également que, dans les contextes de déplacements forcés où cohabitent étrangement le passé et le futur, les enfants foisonnent d'imagination et qu'il importe aux adultes qui les entourent et aux agents éducatifs de les aider à construire leur futur de manière créative. Elle a également pour vocation de poser les premières structuration d'un travail de recherche plus fouillé qui interrogera notamment la prise en compte des identités, des besoins et des espérances des enfants par les entités éducatives.
Fichier principal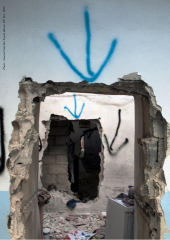 HUMA_BURIEL_Albane_Mémoire_2017.pdf (5.06 Mo)
Télécharger le fichier
Origin : Files produced by the author(s)