Viability of organic market gardening microfarms. An inductive study combining qualitative methods and modelling.
Viabilité des microfermes maraîchères biologiques. Une étude inductive combinant méthodes qualitatives et modélisation.
In the context of the environmental and social challenges of the Anthropocene, microfarms are organic market gardens which are questioning the principles of agricultural modernisation. They are characterised by a high level of crop diversity on small acreages, low motorisation, holistic ecological approach and marketing through short supply chains. My PhD work examined the viability of these atypical farming systems which are raising an increasing interest in industrialised countries. It was based on the study of 20 cases in rural Northern France and 10 cases in the urban context of London. An inductive approach was carried out combining qualitative analysis of interviews with farmers and quantitative modelling based on field data.A conceptual framework was developed to analyse farmers' strategic choices in the light of their life project embracing various aspirations where ethics and subjectivity played a central role. The fulfilment of these aspirations is determinant for the viability of these fams. A stochastic simulation model of income and workload was created to explore the chances of economic viability of contrasted microfarms scenarios integrating technical, commercial and investment strategies. Simulations were run for the French and London context and were discussed with stakeholders. Although viability chances vary among scenarios, this work shows that microfarms can be viable.
Dans le contexte des défis environnementaux et sociaux de l'Anthropocène, les microfermes sont des fermes maraîchères biologiques qui questionnent les fondements de la modernisation agricole par leurs petites surfaces, leur grande diversité cultivée, leur faible niveau de motorisation, une approche écologique holiste et leur commercialisation en circuits courts. Cette thèse a examiné la viabilité de ces systèmes agricoles atypiques qui suscitent un intérêt croissant dans les pays industrialisés. Elle s'est basée sur une étude de 20 cas en milieu rural dans le nord de la France et 10 cas en milieu urbain à Londres. Une démarche inductive a été mise en œuvre combinant analyse qualitative d'entretiens avec des paysans et modélisation quantitative à partir de données de terrain. Un cadre conceptuel a été développé pour analyser les choix stratégiques des paysans au regard des multiples aspirations de leur projet de vie où des considérations éthiques et subjectives occupent une place centrale. La satisfaction de ces aspirations est primordiale pour la viabilité de ces fermes. Un modèle de simulation stochastique de revenu et de temps de travail a été créé pour explorer les chances de viabilité économique de scénarios contrastés de microfermes intégrant stratégies techniques, commerciales et d'investissement. Des simulations ont été réalisées pour le contexte français et londonien et ont été discutées avec des acteurs de terrain. Bien que les chances de viabilité varient selon les scénarios, ce travail montre que les microfermes peuvent être viables.
Fichier principal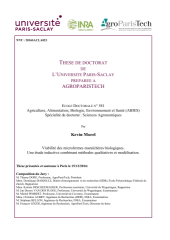 57285_MOREL_2016_archivage.pdf (7.68 Mo)
Télécharger le fichier
Origin : Version validated by the jury (STAR)