Argentine anarchism (1890-1930): contribution to a myth-analysis
Anarquismo argentino (1890-1930): contribución a un mitoanálisis
Anarchisme argentin (1890-1930) : Contribution à une mythanalyse
Anarchism was introduced in Argentina by European inmigrants, and became a multiform movement: syndicalism, illegalism, alternative pedagogy, among others. In spite of their differences, numerous individuals would call themselvs "anarchists". The study of the imaginary (based on the "sociological myth-analysis") has allowed us to clear the homogeneity elements within this multiform movement. Main features of the Argentine anarchist imaginary: The anarchist man is a Prometheus (a civilizing titan fueld by his rebellious temper) in a compound portrait: a "gaucho", a propagandist / pedagogue, a hero. Anarchism is also an "against" action which makes live the Anarchy's mythical drama (destruction / sacrifice / redemption path). Finally, it is a great hope for radical change to come (Revolution is a break in historic time), in which the People are the vector. So the Argentine anarchist imaginary is a dreamlike interbreeding of European dreams adjusted to the Argentine environment.
El anarquismo fue introducido en Argentina por inmigrantes europeos a finales del siglo XIX, arraigándose rápidamente entre los lugareños (sobre todo en contexto urbano). Dicha ideología se impuso, pues, como un componente muy importante del movimiento social del país, dejando así una huella indeleble en toda la sociedad de aquella época. Llegó al país con todos los matices que presentaba ya en Europa y se convirtió en un movimiento polimorfo que se expresó de múltiples maneras: anarcosindicalismo, ilegalismo, pedagogía alternativa, entre otras expresiones. A pesar de esa heterogeneidad, entre 1890 y 1930, numerosos fueron los individuos que se auto consideraban como "anarquistas", desestimando diferencias y querellas. Esa "etiqueta", como veremos, dista de ser una simple denominación sin sentido. El estudio del Imaginario (universo simbólico y significativo) nos ha permitido señalar elementos homogeneizadores en este movimiento polimorfo: imágenes, símbolos, sueños y mitos, base de la ideología. Este trabajo se basa en el "mitoanálisis sociológico" definido por Gilbert Durand, lo cual nos ha permitido esbozar las principales características del imaginario anarquista argentino de aquella época. Este se presenta ante todo como una mirada introspectiva: el anarquista es un Prometeo (titán que "civiliza" por su rebeldía) cuyo perfil muestra varios rostros: gaucho argentino (su ancestro mítico), propagandista / pedagogo consciente, héroe ilegalista. Además, el anarquismo se presenta sin duda como una relación a la acción (acción "contra" una realidad opresora): dicha acción es la representación del drama mítico de la Anarquía (destrucción / sacrificio / redención). Por fin, se presenta como una gran esperanza de cambio radical inminente (la Revolución es una ruptura del tiempo histórico); ese cambio se realizará gracias al Pueblo. En suma, el imaginario anarquista argentino es un mestizaje onírico de sueños europeos adaptados al contexto argentino.
L'anarchisme fut introduit en Argentine à la fin du XIXè siècle par des immigrés européens et s'enracina très vite parmi les autochtones (notamment en milieu urbain), s'imposant ainsi comme une composante de poids du mouvement social du pays et marquant fortement la société argentine. Il arriva au pays avec toutes les nuances qu'il présentait en Europe, devenant un mouvement multiforme aux expressions multiples: anarcho-syndicalisme, illégalisme, pédagogie alternative, entre autres. Or malgré cette hétérogénéité, entre 1890 et 1930, des nombreux individus se dirent "anarchiste", et cela malgré leurs différences voire même leurs querelles. Et cette "étiquette" est loin d'être une simple dénomination vide de sens. L'étude de l'imaginaire, cet univers symbolique et significatif, nous a permis de dégager des éléments d'homogénéité dans ce mouvement multiforme, en nous dévoilant images, symboles, rêves, mythes, socle de l'idéologie. Notre approche, basée sur la "mythanalyse sociologique" définie par Gilbert Durand, nous permit d'ébaucher les traits caractéristiques de l'imaginaire anarchiste argentin. Il apparaît, d'une part, comme un regard sur soi : l'anarchiste est un Prométhée (titan civilisateur par sa révolte) au portrait composite : "gaucho" argentin (comme ancêtre mythique), propagandiste / pédagogue conscient, héros illégaliste. Ainsi, l'anarchisme est-il un rapport à l'action ("contre" une réalité oppressante) : celle-ci est la représentation, dans les actes, du drame mythique de l'Anarchie (trajet destruction / sacrifice / rédemption). Enfin, il se révèle comme une grande espérance de changement radical à venir (Révolution comme rupture du temps historique) dont le Peuple est le vecteur. L'imaginaire anarchiste argentin est donc un métissage onirique de rêves européens adaptés au milieu argentin.
Fichier principal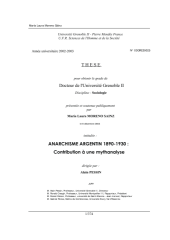 Imaginaire anarchiste argentin- MLMS 2003 (1).pdf (11.79 Mo)
Télécharger le fichier
Origin : Files produced by the author(s)