Characterization of bacterial adaptation upon biofilm dispersion by the coupling of genetic reporters and the delivery of an active molecule.
Couplage de rapporteurs génétiques et d'une molécule active pour l'étude de la dispersion de biofilms.
Biofilms are microbial communities adhering to a surface and embedded in a self-produced polymeric substance, called extracellular matrix. By being ubiquitous in nature, biofilms colonize numerous environments, and they often cause serious problems for both health and industry sectors. Dispersion is one of the strategies for fighting biofilms. A fatty acid, cis-2-decenoic acid (CDA), seems to be promising for dispersing biofilms by the extent of its action on different species of microbes. The aim of this thesis work is to investigate the mechanisms of biofilm dispersion of the bacterial species Escherichia coli (E. coli) by the model molecule CDA. Does CDA modify the biofilm structures or does it induce a genetic response from bacteria during dispersion? To answer these questions, E. coli biofilm dispersal has been studied in situ in microfluidic chambers by confocal laser scanning microscopy (CLSM). Specific bacterial strains have been developed by cloning promoters of interest in transcriptional fusion with a gene encoding for a green fluorescent protein. The results confirm the dispersing activity of CDA with a significant decrease of biomass, biofilm average thickness and area over biofilm depth. A novel tool for analyzing CLSM images has been developed in collaboration in order to measure the biofilm structural properties as a function of in situ fluorescence intensity of the studied reporter. The results indicate an increase in the mean fluorescence intensity of the biofilms after dispersion with CDA, at a global level for the whole biofilm and at a local scale by considering a biofilm segmentation into microcolonies. These results evoke a change in gene expression by bacteria in the presence of CDA. Furthermore, the results show that CDA does not seem to have an effect on planktonic bacteria, neither on the bacterial growth nor on the activity of the selected promoters. This suggests that the CDA effects are biofilm-dependent.
Les biofilms sont des communautés de microorganismes adhérant à une surface et encastrées dans une substance polymérique produite par les cellules du système, dite matrice extracellulaire. Du fait de leur nature ubiquitaire, les biofilms colonisent de nombreux environnements et causent souvent de sérieux problèmes dans les secteurs de la santé et de l'industrie. La dispersion par ajout d'agent chimique est l'une des stratégies de lutte contre les biofilms. Un acide gras, l'acide cis-2-décénoique (CDA), semble être prometteur pour ce faire, grâce à l'étendue de son action dispersante sur les espèces et règnes du vivant. L'objectif de ce travail de thèse est d'investiguer les mécanismes de dispersion des biofilms de l'espèce bactérienne Escherichia coli (E. coli) par la molécule modèle CDA. Le CDA modifie-t-il les structures du biofilm ou induit-il une réponse génétique des bactéries lors de la dispersion ? Pour répondre à ces questions, la dispersion des biofilms d'E. coli a été étudiée in situ dans des chambres microfluidiques par microscopie confocale à balayage laser (CLSM). Des souches bactériennes spécifiques ont été construites par clonage de promoteurs d'intérêt en fusion transcriptionnelle avec un gène codant pour une protéine fluorescente verte. Les résultats confirment l'activité dispersante du CDA avec une réduction significative de la biomasse, de l'épaisseur moyenne et de l'aire de recouvrement par couche du biofilm. Un outil innovant d'analyse d'images CLSM a été développé en collaboration dans le but de déterminer les propriétés structurales du biofilm et l'intensité de fluorescence in situ du rapporteur étudié. Les résultats indiquent une augmentation de l'intensité moyenne de fluorescence des biofilms après dispersion avec le CDA, au niveau global en considérant tout le biofilm et au niveau local en considérant une segmentation du biofilm en microcolonies, ainsi qu'en profondeur. Ces résultats évoquent un changement d'expression génique des bactéries en présence de CDA. Par ailleurs, les résultats montrent que le CDA ne semble pas avoir d'effet en culture planctonique, ni sur la croissance bactérienne ni sur l'activité des promoteurs sélectionnés. Ceci suggère que les effets du CDA sont biofilm-dépendants.
Fichier principal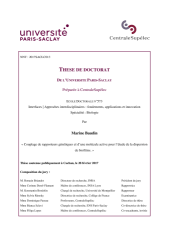 76911_BAUDIN_2017_archivage.pdf (10.05 Mo)
Télécharger le fichier
Origin : Version validated by the jury (STAR)