Comparative survey on the looked after children school persistence in England and France.
Étude comparative de l'accrochage scolaire des enfants placés en France et en Angleterre
Research has regularly pointed at the poor achievement of Looked after children in comparison with the rest of the population. This comparative research between France and England focuses on residential care: the main dimensions of parenting are attributed to a team composed of professionals. We analyse this social and family reconfiguration in order to apprehend the logic and processes which underlie the educational pathways of children in care and their support when under care. Our interactionist approach uses a comprehensive methodology in order to enhance the analysis and the knowledge on this population, particularly to understand why some of these children achieve success at school despite the accumulation of difficulties. We develop the concept of school persistence as the peak of a set of long and complex processes which are combined. The main part of our data is obtained through a hundred of semi-structured face-to-face interviews and observation work into eight long-term children's home over a period of several months. This research improves the understanding on this organization as a new frame of socialization. We study the practices of, their commitment in education and towards the development of professional perspectives for children. Care in children's homes tends to confirm and reinforce the children's underachievement from the beginning of the care placement in the sense that it maintains educational inequalities due to its structure and socialization processes that are distant from those which can be observed at school.
Les recherches sur les enfants placés par les services sociaux indiquent qu'ils ont des difficultés scolaires plus fréquentes et plus importantes que le reste de la population. Cette recherche comparative entre la France et l'Angleterre se concentre sur les accueils en établissement : la suppléance familiale est ici exercée par une équipe de professionnels. Nous analysons cette reconfiguration sociale et familiale afin de mieux appréhender les logiques et les processus qui soustendent les parcours scolaires des enfants placés et leur accompagnement dans le cadre du placement. Notre approche, interactionniste, adopte une démarche compréhensive qui permet d'affiner l'analyse et donc les connaissances sur la population, et notamment de comprendre pourquoi certains réussissent malgré le cumul des difficultés rencontrées. Nous nous appuyons sur le concept d'accrochage scolaire comme le point culminant d'un ensemble de processus longs et complexes qui se combinent entre eux. La partie principale de notre corpus est composée d'une centaine d'entretiens individuels et semidirigés et d'observations participantes menées sur plusieurs mois au sein de huit établissements en France et en Angleterre. Cette recherche permet d'avoir une meilleure compréhension de ce nouveau cadre de socialisation. Nous étudions les pratiques des professionnels, leur investissement sur la question scolaire et sur l'élaboration des projets professionnels. Le placement tend à confirmer et consolider les carrières scolaires des jeunes dès leur entrée dans la prise en charge et à entretenir les inégalités scolaires par sa structure et par des modes de socialisation éloignés des modes scolaires.
Fichier principal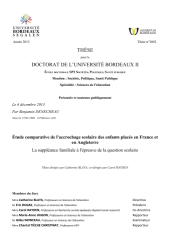 Denecheau 2013 thèse - étude comparative de l'accrochage scolaire des enfants placés en France et en Angleterre.pdf (3.13 Mo)
Télécharger le fichier