Rampes latérales et zones de transfert dans les chaînes plissées : géométrie, condition de formation et pièges structuraux associés
On the basis of analogue modelling experiments we evidence that the development of transverse zones in fold-and-thrust belts is directiy related to a longitudinal variation of (1) the thickness of the allochthonous sequence and/or (2) the shear strength at the base of the prism. In cases of fold belts provided of a ductile decollement level, any oblique discontinuity within the detachment layer (i.e. abrupt thickness variation, presence of salt ridges ... ) controls the forming and the orientation of thrusts in the overlying britlle cover. Three natural examples of transfer zones taken in the Western Alpine foreland illustrate the observations derived from laboratory models : The northern and southern oblique fronts of the Jura arcuate belt are both located above a lateral disappearance of the Triassic decollement level (sedimentary pinch-out for the Southern Jura or normal faulting for the Northern Jura). Theses transverse segments display a finite deformation pattern combining compressive regime with wrench tectonics, as regional shortening directions are strongly deflected to trend nearly perpendicular to the strike of the transfer zone. The Western Vercors thrust belt corresponds to a transverse zone induced by the lateral thickening of the allochthonous cover, added to the presence of basal Triassic salt in the south of the massif. These variations along strike cause (1) the development of en-échelon folds at the frontal part of the belt and (2) the augmentation of the wave-length of imbricate thrust sheets, as the longitudinal decrease of the basal shear strength provokes a progressive reversai of the polarity of the belt from north to south.
A partir de l'étude de cas naturels de zones transverses dans l'avant-pays alpin et de modèles analogiques, on montre que le développement des zones de transfert dans les chaines plissées est directement lié à une variation longitudinale des paramètres impliquant le niveau de décollement basal. Pour une série sédimentaire mécaniquement isotrope et pourvue d'un niveau de décollement basal à comportement fragile, ces facteurs sont : (1) l'épaisseur de la couverture et (2) la résistance au cisaillement à la base. Pour une chaine dont le décollement est assuré par un niveau de détachement ductile, la présence d'hétérogénéités obliques (variations brutales d'épaisseur ou interruptions latérales, . étranglements, rides ... ) au sein de cette couche ductile favorise la formation et l'orientation des chevauchements dans la couverture fragile sus-jacente. Les fronts latéraux nord et sud de l'arc du Jura se localisent à l'aplomb d'une limite d'extension du niveau de décollement triasique: au sud, il s'agit d'une variation latérale de faciès alors qu'au nord il s'agit d'une interruption brutale par faille normale. Ces deux secteurs montrent une déformation finie associant régime compressif et régime décrochant, caractérisée par une rotation importante des axes de raccourcissement qui tendent à s'orienter perpendiculairement à la zone transverse. Cette déformation transpressive peut s'exprimer de deux façons: soit elle affecte l'ensemble de la zone transverse de manière diffuse (cas du Jura septentrional), soit il y a ségrégation entre les composantes de cisaillement pur et de cisaillement simple (cas du Jura méridional). Le massif du Vercors occidental correspond il une zone transverse induite par l'épaississement du nord vers le sud de la couverture allochtone, qui s'accompagne de la réapparition du sel massif triasique à la base. Ces variations longitudinales conduisent au développement de plis en échelon au front de la chaine et à l'augmentation de la longueur d'onde des écailles imbriquées. La diminution vers le sud de la résistance mécanique il la base se traduit par une inversion progressive de la vergence de la chaine.
Fichier principal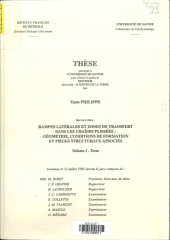 These-Philippe-T1-1995.pdf (75.05 Mo)
Télécharger le fichier
These-Philippe-T2-1995.pdf (102.94 Mo)
Télécharger le fichier