Radar remote sensing applied to rice fields monitoring. Methods using a backscatter intensity ratio.
Télédétection radar appliquée au suivi des rizières. Méthodes utilisant le rapport des intensités de rétrodiffusion.
Because of the importance of rice in global food security and of the role of rice paddies in methane emissions, a large-scale near-real-time monitoring system of rice fields appears to be particularly useful. The objective of this work is to develop methods aiming at an effective use of remote sensing data from past and future satellites for rice fields monitoring. Radar imagery is preferred to optical imagery, due to its all-weather ability. Two methods are considered, both involving a C-band SAR intensity ratio as a classification feature: the HH/VV polarization ratio and the co-polarized temporal change HHdate2/HHdate1. First, a statistical study of intensity ratios is done, leading to the development of an error model that estimates the performance of the classification methods. The error model is also used to assess the impact of SAR system parameters (calibration, ambiguity ratio, revisit frequency) on the classification accuracy. Then, these classification methods are applied to two datasets acquired by the ASAR instrument onboard ENVISAT over the Mekong Delta, Vietnam, in order to map rice fields at two scales. The first approach relies on the use of the HH/VV polarization ratio calculated from the Alternating Polarization mode of ASAR, and is applied to produce a rice map covering one province in the delta. The second approach uses the HH temporal change of Wide-Swath mode images from ASAR, and allows mapping rice fields over the whole delta. Both methods are validated with success through the use of the cultivated areas reported in national statistics.
En raison de l'importance du riz dans l'alimentation mondiale et du rôle des rizières dans les émissions de méthane, un suivi à grande échelle et en temps quasi-réel des surfaces cultivées en riz semble particulièrement utile. L'objectif de cette thèse est de développer des méthodes permettant une utilisation effective des données de télédétection des satellites présents et futurs pour le suivi des rizières. L'imagerie radar est privilégiée car elle permet des acquisitions sous toutes les conditions météorologiques, contrairement à l'imagerie optique. Deux méthodes sont retenues qui font intervenir un rapport d'intensité de deux images SAR en bande C : le rapport de polarisation HH/VV ou le changement temporel en co-polarisation HHdate2/HHdate1. Dans un premier temps, une étude statistique des rapports d'intensité de rétrodiffusion est effectuée, qui conduit au développement d'un modèle d'erreur permettant d'estimer la performance des méthodes de classification. Ce modèle d'erreur est également utilisé pour évaluer l'impact des paramètres des systèmes SAR (Synthetic Aperture Radar) sur la performance de la classification. Il s'agit des paramètres concernant l'étalonnage, l'ambiguïté, la fréquence de revisite. Dans un second temps, les méthodes de classification ainsi développées sont appliquées à deux jeux de données de l'instrument ASAR du satellite ENVISAT sur le delta du Mékong au Vietnam, pour faire la cartographie des rizières à deux échelles différentes. La première méthode repose sur l'utilisation du rapport HH/VV à partir de données du mode Alternating Polarization d'ASAR, qui permet de produire une carte de rizières couvrant une province du delta. La seconde méthode tire parti du changement temporel de HH sur des images du mode Wide-Swath d'ASAR, et est utilisée pour cartographier les rizières de l'ensemble du delta. Les deux méthodes sont validées avec succès en utilisant les surfaces cultivées données par les statistiques nationales.
Fichier principal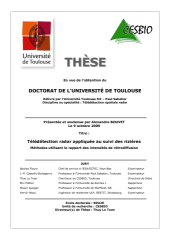 Rapport_de_these_Bouvet_UPS.pdf (16.32 Mo)
Télécharger le fichier
These_Bouvet.pps (3.33 Mo)
Télécharger le fichier